Leading EDGE: Meet Our Interns!
A lot has happened since we last announced TNPA's Leading EDGE Internship Program.  Shelby Truxon, Director of Internship Experience, along with TNPA staff, program advisors, and Leading EDGE Steering Committee members launched the pilot version of the program for DC/Maryland/Virginia university students to participate in this summer. After receiving more than 100 student applications and inquiries, we're so excited to introduce you to our first set of interns, aka, Cohort #1!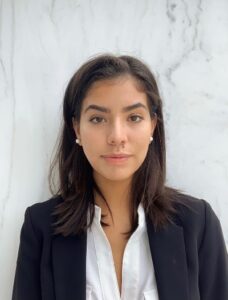 Angela Yepez
[Internship Host: Further Digital] Angela is currently a rising senior at the University of Maryland and will be starting her master's degree in Marketing Analytics in the fall. She's looking forward to building on her previous marketing work with HRGi, where she worked with clients in the healthcare industry. She has a great interest in nonprofit client work as well, which she has had the opportunity to explore through volunteer consulting in college. Angela is eager to learn new skills from the program and help impactful organizations carry out their missions.
Huey Bodger
[Internship Host: The ALS Association] Huey is studying philosophy and psychology at The Catholic University of America, expecting to graduate in the Spring of 2023 with a Bachelor of Philosophy. From the Northern Virginia area, Huey appreciates a diverse and lively environment, probably from growing up close to the nation's capital. In the future, Huey would like to serve and help other people, especially students with troubled backgrounds. Using the critical thinking skills that are being obtained through his studies, Huey has had the opportunity to inform and aid with diversity initiatives on the Catholic University campus, even having the opportunity to pilot a campus-wide diversity retreat including senior university staff. Through the TNPA Leading EDGE internship program, Huey looks forward to fine-tuning and developing skills in the nonprofit world.
Jordan Leathers
[Internship Host: Mal Warwick Donordigital] Jordan  is currently attending the University of Maryland as a Marketing and Supply Chain Management double major and expecting to graduate in the spring of 2023. She is currently interning for Mal Warwick Donordigital and assisting with their nonprofit clients in marketing, marketing materials, and general organization. Jordan lives in Rockville, MD, and can be found spending time with family and friends, reading or drawing.
Olivia Eley
[Internship Host: PMG] Olivia is a rising third-year student at the University of Maryland. She will be double majoring in Marketing and Information Systems. In high school, she was Social Media Manager of Student Against Destructive Decisions and assisted in anti-drug and anti-bully campaigns. As Co-chair of the Political Power Project of the Student Success Leadership Council, she led and marketed events to raise awareness of the political climate, enhance students' professional development, and increase graduation retention of black students on campus. Currently, she interns for the Production Management Group (PMG) and Conference Incorporated with much interest in nonprofit work.
Rohit Mishra
[Internship Host: The Nonprofit Alliance] Rohit is currently entering his sophomore year at the University of Maryland with the goal of pursuing a degree in business. In the past, he has worked for the Art of Living Foundation to raise $250 to support a young student in Nepal. This year, he has the honor of working with The Nonprofit Alliance to effect change for nonprofit organizations. Rohit is extremely excited for this opportunity and looks forward to the change they can create together.
Read more about our program on tnpa.org/leading_edge/ and stay tuned for updates over the summer.
---
About TNPA's Leading EDGE Program:
TNPA's Leading EDGE Internship Program aims to elevate the visibility of college-age job candidates, particularly those in underrepresented and first-generation student populations, within the employer job market; and enable first job placements that can lead to a career path in the social good sector, including roles in marketing & fundraising, finance, policy, data management & analysis, and more.