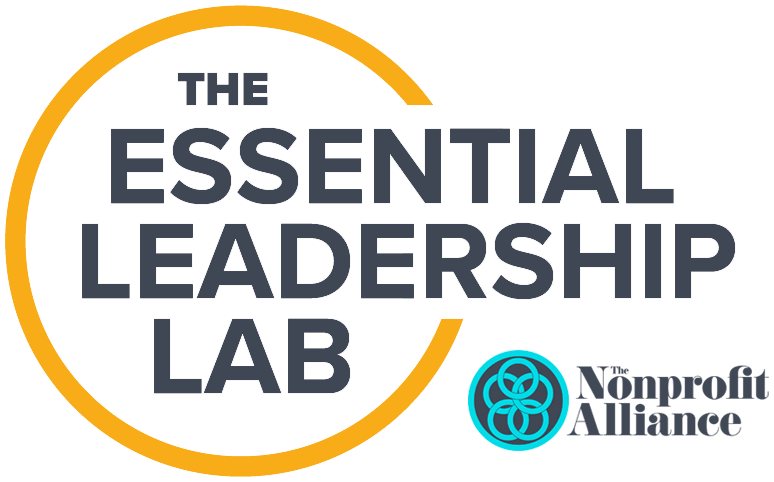 A community of visionary change-makers, committed to protecting, promoting, and strengthening the nonprofit sector.
The Essential Leadership Lab is a sustained, virtual program that runs in four-month cycles across the year.  Both in the larger Lab Forum and in smaller Lab Cohorts, members engage in real-time thinking and discussions about the topics, issues, and opportunities that impact the health of nonprofits in today's social, economic, and political climate.
Cultivate Your Essential Leadership Skills
As a member of this community of visionary change-makers, you will:
Connect!  Join a cohort of diverse, innovative peers who can become your new go-to group for insights and inspiration.

Expand your network of top nonprofit pros who share your vision for our industry. 

Use peer feedback to help navigate your current challenges.

Be eligible for early registration to TNPA Leadership Summits.

Enjoy access to the Essential Leadership Lab Library, a curated bank of resources by and for nonprofit professionals.
Essential Leadership Lab Forums
Three times a year, you will convene with all of the Lab members to launch new theme topics and share insights and outcomes from past themes.  Expert guest speakers will introduce new ideas and challenge you to see possibilities beyond the current status quo.  Your Lab Cohort (see below) may be invited to share your unique takeaways generated in your monthly cohort sessions.
Essential Leadership Lab Cohorts
When you join the Lab, you'll be placed with a Cohort comprised of approximately 12 nonprofit industry pros who share your drive and understand your challenges.  The three months following each Lab Forum, you will meet with your Cohort to discuss the Forum theme topics and other timely, relevant areas of interest.  Active participation in your Cohort meetings is expected and required!
Between scheduled meetings, you will have access to your Cohort's Special Interest Networking Community (SINC), an online networking and discussion platform to keep your conversations moving forward.
Lab Schedule: 2021 Cycles
Essential Leadership Lab runs in 4-month cycles, with each cycle focused on a particular topic or theme.  New members are inducted every 4 months with the launch of the next cycle.
Our Winter 2021 cycle wrapped up in April: Putting Words into Action | Accountability for DEI Excellence in the Nonprofit Sector
Our Summer 2021 cycle is underway: Three Left Turns that Went Right | Resiliency Through Change
The Fall 2021 cycle begins in September: Intersections of Opportunity | Informal Partnerships & Strategic Alliances
2022 Cycle Start Dates:  January, May, September.
A huge thank you to our Lab sponsors:
Enroll for a one-year membership in the Lab.  This includes three 4-month cycles and your monthly Cohorts that support each cycle.
Nonprofit Members – $549

Commercial Members – $749
» Lab members who enroll before August 20, 2021, will be part of our next cycle, beginning with a Lab Launch! on September 15, 2021.  At this kick-off event, you'll learn more about what to expect from your Lab experience and meet your Cohort.
Who are Lab members?
Essential Leadership Lab is a special program for members of TNPA. (Not a member? Join today!) We welcome all leaders from nonprofit organizations and commercial partners with proven experience and a passion for collaboration, innovation, and organizational health.
Members of the Lab believe that:
A thriving nonprofit sector can meaningfully change the world.

Nonprofit leaders have a shared responsibility to protect, promote, and strengthen our sector.

The ability to effect change in an organization isn't defined by a job title.  

Learning

and testing environments like the Lab can

 uncover both predictable and unpredictable results.  

We are stronger when we collaborate.
Lab Development Team
Doug Barker, Barker & Scott Consulting
Nick Ellinger, Moore
Kelly England, Multiply Strategies
Jennifer Ingram, Wiland
LaShanda Jackson, Common Cause
Mimi Natz, TrueSense Marketing
Rich Kostro, Share Our Strength
Vinod Parmeshwar, Lincoln Institute of Land Policy
Allison Porter, Avalon Consulting Group
Kyla Shawyer, Philanthropy & Fundraising North America
Debbie Weir, Everytown for Gun Safety
Enrollment transfer and cancellation policies: Enrollment in the Essential Leadership Lab constitutes intent to participate for at least one year (three cycles) and is a commitment to the ELL experience for fellow Cohort members.  Enrollment is non-transferrable as of the last date of the current enrollment registration (e.g., April 15, 2021, for all members joining as of the first cycle beginning in May 2021).  Lab membership remains with the individual, such that if a Lab member changes jobs or employers, the individual remains a member of the Essential Leadership Lab for the remainder of the pre-paid one-year term.  No refunds will be issued after the final date of the current enrollment registration period.
TNPA DEI Accountabilities: As part of our organizational commitment to diversity, equity, and inclusion, TNPA strives to hold ourselves accountable for putting our principles into practice.  We apply this same accountability to those who create and/or present content on our behalf:
Be inclusive.  Create content that can resonate with an array of listeners and readers.

Speak to diversity. Recognize that members of an audience or cohort have various lived experiences.

Recognize that systemic inequities and discrimination exist.  Do your best to acknowledge how we can mitigate against them.

Be mindful of explicit and implicit bias.  Review content through the lens of varied identities.
TNPA Code of Conduct: The Nonprofit Alliance exists to foster the development and growth of nonprofit organizations and to protect the donors, members, partners, and volunteers that support them.  At all educational offerings and conferences, we commit to fostering an environment free from physical, emotional, and psychological harm. We will not tolerate harassment, discrimination, and intimidation of any form. All individuals must exhibit professionalism, must demonstrate respect for others, must act with civility, and must refrain from inappropriate and unwelcomed physical contact, sexual references and aggressive advances. Anyone who experiences or witnesses a violation to these standards, should immediately contact TNPA CEO Shannon McCracken.  Anyone found in violation of the TNPA Code of Conduct by any means may receive a warning, have membership suspended, registration forfeited, or experience escalation to legal authorities.