The Continued Evolution of Charity Navigator's Ratings
This week's guest post is a first look at Charity Navigator's new impact evaluation methodology, which they announced today, and an invitation for nonprofits to share their feedback.  
Today, Charity Navigator is taking a big step closer to what has been called "the holy grail" of nonprofit evaluations: Impact & Results.  This is part of a new process of ongoing improvement through engaging the nonprofit sector and listening to donors, and it will lead to multiple versions of the evaluation system over the coming years.  Throughout this iterative process, we want to hear from you.  I'll share more on how to do that below.
First, some recent background.  This summer, we launched the Encompass Rating System with a number of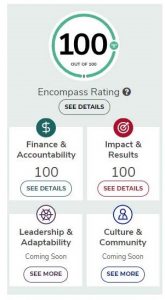 important improvements to our ratings offerings:
Scaled

the number of nonprofit organizations rated from 9,000 to 160,000.

Shifted from our traditional 4-star system to a

100-point scale

for more specificity to our grading (the star rating system is maintained and those organizations have not been affected).

Introduced a new

modern interface

for nonprofit profile pages that delivers content to both casual users and donors who want to do a much deeper dive into the data.

Put forward a concept for a

4-indicator system of evaluation that we call beacons, extending our existing methodology beyond just Finance & Accountability to also include Impact & Results, Community & Culture, Leadership & Adaptability.  
Our Next Big Milestone – Impact & Results 
Charity Navigator is proudly announcing the acquisition of ImpactMatters, acquiring the expertise, methodology, and data that delivers our first Impact & Results beacon.   Founded in 2015 as a 501(c)(3) public charity, ImpactMatters is the first ratings organization to successfully develop a method for assessing nonprofit impact at scale, launching over 1,000 impact ratings in 2019. With the acquisition, these ratings will be converted to the Impact & Results beacon and the ImpactMatters staff will form our Impact Unit as a fundamental part of our Programs Department.  
As we celebrate this sectoral milestone, I am also greatly anticipating the future work of the Impact unit as it scales the number of organizations eligible for this beacon.
Iterative Process Built on Learning Together
Our commitment to engagement and listening is real.  It is vitally important that we not operate in a bubble, or an echo chamber, but with input and insight from nonprofits, donors, and other Charity Navigator ratings users.  Earlier this year, at the suggestion of The Nonprofit Alliance, we launched the Consultative Council of Nonprofit Leaders, a diverse group of nonprofit executives that meets with us regularly for constructive review of our products and plans.  Already they have surfaced questions and use case scenarios that we've incorporated into our ratings engineering and the way we display information to donors.  
There are opportunities in the coming month in which we encourage your participation as well:
Online Forum

:  Charity Navigator has created an online forum for ongoing exchange about methodology.

Send us

your ideas for improving our methodology, and don't be afraid to tell us where we have erred. We are versioning our rating system and expect to make improvements based on your feedback.

Sharing Data to Get Evaluated

:  Charity Navigator is building a nonprofit portal to allow nonprofits to submit data to us directly. Ahead of the portal launching, we have included a way for nonprofits to

share your impact data

with us.

Fireside Chat – Join us for a virtual fireside chat on Impact & Results in November. More information on how to sign up to follow.  
Look for more information coming from TNPA about a virtual program, which will include a deeper look at the methodology and plans for future ratings expansion.  In the meantime, we hope to hear from you.