Final in a series of five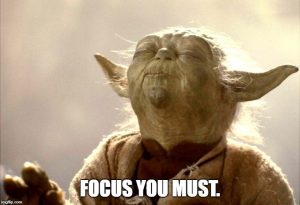 And now we have come to the fifth and final installment of my blog series on the Growth out of a Crisis webinar series presented by my colleague, Alan Clayton at Philanthropy & Fundraising International (PFI).
We began these blog posts in April, and while some things about fundraising in the era of COVID-19 have changed, many have remained the same. The introduction we've given to the previous four topics — an executive summary of why now is the time to take your fundraising from good to great — and the leadership behaviors, growth planning strategies, and donor communication efforts all come down to the final push:  Focus, energy and action. Or, how you  ignite and inspire your teams.
At the outset, we explained that in the era of COVID-19, most nonprofit organizations would experience a dip in income and then reemerge in one of three ways. An unfortunate few have not survived. Another small number have cut back on fundraising and will emerge with a smaller donor base and a fundraising program that has retreated.
The majority of nonprofits will hang on, then re-emerge with a status quo approach that assures survival-level fundraising for some period of time. By contrast, the nonprofit organizations we are modeling in Growth out of a Crisis have seen this moment for what it is: An opportunity to expand their donor base and come out with heightened and accelerated fundraising for five to 10 years or more.
Who's who in this hierarchy? Time will tell, but the answers are being written right now. We do have clues, though. Years of research tells us that the single most important determinant of who survives and who thrives is not the sector, the size, or any other external factor.
The #1 variable is the internal behaviors of nonprofit organizations — senior management teams, boards and leadership teams — right now. This means that none of us gets a pass for what happens from here on in, because it's all within our control.
The question is: Will we find the focus, create the energy and drive the action that is needed to relaunch our fundraising internally to set our organizations on course to thrive for many years to come?
PFI's research, drawing on Adrian Sargeant's research and working with more than 1,000 organizations around the world, shows us that the organizations that raise the most money are the ones that know how to put priorities into sharp focus. Your organization must bring intentionality to its focus on the positive energy needed to supercharge your fundraising.
If this were easy, everybody would already be doing it.
And in a crisis, it's even more difficult to demand focus. We're all caught in a fast-moving, worry-driven time. This chaotic state is compounded by working from home, which at least for some of us makes focus even more difficult. But don't blame Zoom calls: The biggest obstacle to great fundraising always has been internal conflict. Use this crisis to give yourself a new chance to focus — really focus — on fundraising and how it is a critical, maybe the critical, key to long-term growth.
Here are a few things that the truly great fundraising organizations have been doing for the past several months — and it's not too late for you to follow suit:
Get through the emotional barrier of worrying about money. Believe in yourselves and believe in your donors. Together, you can do this.
Use data to show non-fundraisers in your organizations why fundraising has to communicate in certain ways. If you can't get complete organizational buy-in to relaunch your fundraising in the way that's necessary to gain market share, at least you can get the space you need to test and learn, test and learn, test and learn.
Mix inspiration with education with design thinking. Employ behavioral design thinking. Take non-fundraising colleagues through the creation of fundraising communications, stage-by-stage, to get the focus needed to fuel fundraising growth.
Creating growth out of a crisis is not just a nice idea. It's imperative for any organization that wants to grow its fundraising over the next five or 10 years in order to fulfill its mission for the next 25 or 50 years. And who among us doesn't want to do that?
To access the "Growth out of a Crisis" webinar series and view all five webinars or to learn more about how to move from being a good fundraising organization to a truly great one please visit https://www.philanthropyfundraising.com, or leave a comment in this blog post. And may the force of Focus, Energy and Action be with you!
Kyla Shawyer, CEO Philanthropy & Fundraising North America and Creative Consultant, DSIL Global, is a passionate advocate for sharing and collaboration in the social good space. After 14 years leading nonprofits, including Operation Smile, the Resource Alliance and the IFC global nonprofit community, Kyla has seen firsthand the magic and impact that can be created when we break down silos and barriers and open our minds and our hearts to new ways of working together.