Happy 1st Birthday, TNPA! (If you thought our first 12 months were fast paced, wait until you see what's coming!)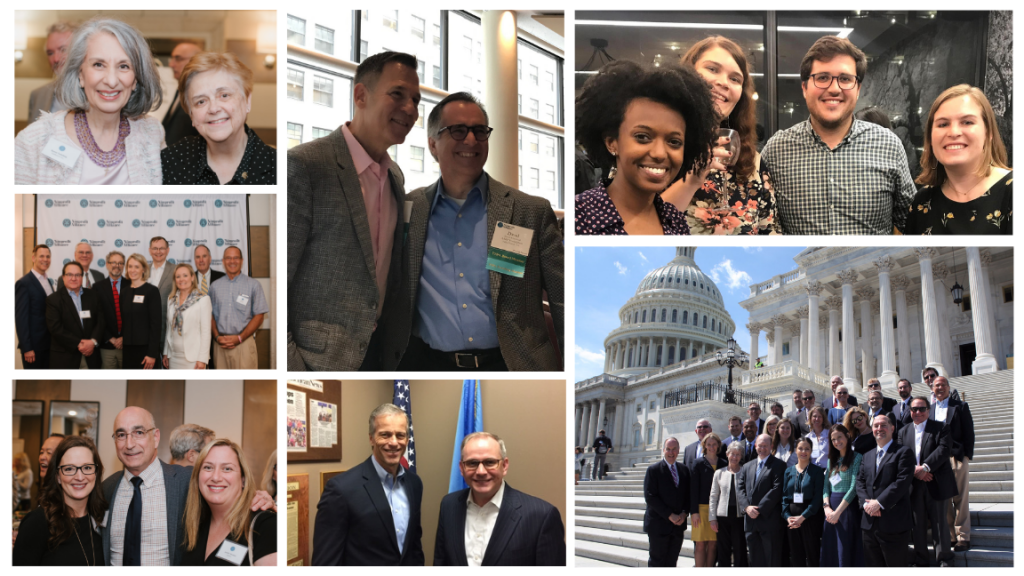 This month we turn 1 – and what a year it has been.  Since The Nonprofit Alliance opened our doors in September 2018, the momentum has been incredible.  Below are a few highlights of our first twelve months:
Established a brand new 501c6 association and 501c3 foundation – not a small endeavor!

Hired a fulltime federal lobbyist, Mark Micali, to represent nonprofit interests on Capitol Hill; built relationships and TNPA name recognition with key Congressional leaders, including Senate Majority Whip John Thune (R-SD) on responsible data regulation and Senator Chris Coons (D-DE) on repeal of the tax on nonprofit employee benefits – the so-called UBIT provision.

Retained a veteran lobbyist in California to be one of the sole voices advocating for nonprofit interests on the burdensome and complicated CCPA issue.

Published our Code of Standards and Ethics, which every TNPA member agrees to abide by, uphold, and promote.

Held a sold-out one-day educational program in New York City, Pivot & Prevail, in response to downward trends in 2018 giving.

Drafted and released a 20-page position paper on a national data privacy standard.

Merged the Association for Direct Response Fundraising Counsel (ADRFCO) into TNPA. For more than 30 years, ADRFCO has been dedicated to educating the public about the positive impact of direct response fundraising.  Under the continued leadership of General Counsel Bob Tigner and the current ADRFCO board of directors, ADRFCO became a Council of TNPA, aligning our efforts and bringing greater value and resources to our members.

Opened our doors to former NCDC members to build a new Catholic Development Council.

Led two Capitol Hill Day events with TNPA members coming to Washington to advocate for our interests in responsible data regulation and needed tax law changes.

Explored collaboration opportunities with our industry association peers for educational programs, outreach, and advocacy; thank you to DMFA, DMAW, ASAE, Alliance of Nonprofit Mailers, Marketing EDGE, InterAction, Independent Sector, PFFA, AFP-DC, and others for these initial "1+1=3" conversations and initiatives.

Took a strong position opposing state legislation that will create new state financial reporting inconsistent with GAAP and an organization's IRS Form 990.

Hosted three professional networking events in Washington, DC, and New York City.

Created a structure and home for member-driven initiatives like our Facebook task force and the "Test of the Month" webinar series.

Launched the TNPA Political Action Committee (PAC) to strengthen the nonprofit voice on Capitol Hill.
And as for our next twelve months…even faster paced than the last twelve!  Here are a few teasers:
Later this month we will be leading our third Capitol Hill Day of the year. And this Hill Day will be a special one with colleagues from the Alliance of Nonprofit Mailers joining us, along with TNPA member organization representatives from both nonprofits and our corporate partners. We will again be calling for the need for a robust, bipartisan national standard for the use of data, as well as needed changes in tax law to promote the nonprofit sector.  We anticipate at least three Hill Days in 2020. Very simply, TNPA will be a tireless advocate for the nonprofit sector on Capitol Hill!

On October 22-24, TNPA is hosting our Leadership Summit in Tucson, Arizona. This exclusive, members only/by invite event for senior leadership is not a fundraising and data conference.  Fewer than 150 executives will spend two days together assessing big opportunities for organizational and sector transformation within an evolving global landscape.  It's an event you won't want to miss.

(Shh, not yet announced!)  In November we're co-presenting an event in NYC about the power of AI in fundraising.

We will introduce a new board of directors for our 501c3 sister organization, The Nonprofit Alliance Foundation, to lead our educational programming initiatives and collaborations.

New online special interest networking communities are rolling out so members can ask and answer questions and share ideas, news items, and other curated content within a community of peer professionals.

Our first national fundraising & marketing conference is coming to Boston, April 21-23, 2020, along with more webinars and other educational programming.
We are going to continue to move quickly – as we already have – to convert our community's ideas into reality – through networking, education, and as a strong advocate among government decision makers. We enthusiastically welcome you to join our team to strengthen the nonprofit sector. With your help, we can influence and meaningfully change the world!