Legislative Round-Up | September 2022
September 2022 Legislative Round-Up
Congress to Adjourn for Upcoming Election: Post-Election Lame Duck Session Likely
At the moment, Congress is in the midst of an impasse to enact a funding resolution to provide monies to keep the federal government running – and avoid a government shutdown – after the current funding expires at the end of the fiscal year, which is this coming Friday, September 30. Initially, it appeared that Congress would pass a "clean" short-term funding bill to fund the government until mid-December, however now it appears there is a logjam with an attempt to add a number of other provisions to this short-term funding measure.
Nonetheless, in the next week or – at most – two, Congress will adjourn to go back to their districts to campaign for the mid-term election on November 8. However, there will likely be much work still to complete before the end of the year. Most importantly, Congress will need to come back after the election to pass another funding resolution to keep the government running.
Since Congress is expected to return after the election to consider the funding issue, it will likely also address other issues, and two in particular are important to TNPA: renewing the Universal Charitable Deduction and expanding the current IRA Charitable Rollover.
The Universal Charitable Deduction
The previously enacted Universal Charitable Deduction of $600 for married couples filing jointly and $300 for individual tax filers expired at the end of last year on December 31, 2021. Extending the Universal Charitable Deduction is expected to be considered — and passed — in the lame duck session as part of a package of other expired tax provisions known as a "tax extenders" package. Should this package pass, this is good news, but only to a point. We would be pleased that Congress extended the deduction for 2022, however it would have been much more beneficial had it been in force for all of 2022, so that potential donors could be advised of — and motivated by — its existence for the entire 2022 year.
TNPA continues to press for making the Universal Charitable Deduction permanent, to avoid these kinds of last-minute, year-end legislative challenges. We would also like to see an increase in the deduction from $600/$300 to a higher figure. To that end, legislation to increase and make the deduction permanent continues to gain strong support, particularly in the Senate under the leadership of Senators James Lankford (R-OK) and Chris Coons (D-DE). Their legislation S. 618 now has 18 Senators signed on.
IRA Charitable Rollover
Expanding the IRA Charitable Rollover is also expected to be considered — and passed — in the lame duck session. Specifically, H.R. 2954, the Securing a Strong Retirement Act, which includes a number of retirement-related measures, has a provision which would increase the current maximum annual contribution to an IRA Charitable Rollover from $100,000 by indexing it to the annual rate of inflation, or CPI. This would be a victory for the nonprofit sector.
National Privacy Legislation
Comprehensive National Privacy Legislation is still considered a "next year" issue. As previously reported, H.R. 8152, the American Data Privacy & Protection Act, which in July was reported out of the House Energy & Commerce Committee, has yet to be scheduled for consideration on the House floor. At this point, it appears unlikely that the bill will come to the House floor. Even if it were to pass the House, there appears to be little chance for Senate consideration this year.
TNPA believes the legislation in its current form has several major flaws. First, it includes a "carveout" allowing portions of 15 separate state privacy laws to continue even after enactment of the federal statute, perpetuating the current patchwork quilt of varying state privacy laws. The bill also includes a Private Right of Action, which could result in a proliferation of class action lawsuits, many of which will be frivolous. TNPA opposes a Private Right of Action.
TNPA continues to work hard on privacy legislation and has remained in dialogue with key members of both parties in the House and Senate to advocate for robust, bipartisan, national privacy legislation. We expect to be back at it again next year and privacy will continue to be our number one legislative priority.
Read more under our Policy Priorities webpages.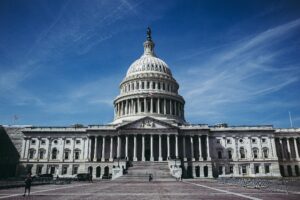 Join us for Where Now? Assessing the Results of the Midterm Elections as we consider what the election results might mean for the nonprofit sector and the policies that matter.
Thursday, November 10, 12:00 – 1:00 PM ET.
Register Here
Deadline Approaching
Public Service Loan Forgiveness Program (PSLF)
The October 31 deadline to submit your student loan debt to be qualified for debt forgiveness is quickly approaching! The Federal Public Service Loan Forgiveness (PSLF) Program allows individuals who have worked a minimum of 10 years for a 501c3 nonprofit organization or government entity (state, local, federal, or tribal), AND have made student loan payments for 120 months (10 years) to have their remaining student loan debt forgiven.
This program offers an important benefit for recruiting staff into the nonprofit sector. It is a means for nonprofits to compete, or at least offset, the higher salaries offered in the private sector. Of course, it only works as an incentive if it is made known, both to nonprofits and to potential candidates to work in the nonprofit sector.
TNPA is in partnership with PSLF.us to get the word out! Visit https://tnpa.org/policy/pslf/ to access information for individuals and employers to share with staff.
ICYMI: Government Affairs Video Update – September 2022
TNPA's Vice President, Government Affairs, Mark Micali is here to keep you in the loop on what is happening on Capitol Hill on issues important to the nonprofit sector. Click here to watch the video for this month's legislation update.
Mastercard Discussions Continue: With Movement in the Right Direction for Sustainer Fundraising
TNPA met with senior Mastercard staff on September 2 and, as a result, was able to make some progress. Shortly after our meeting, Mastercard confirmed two significant changes to the original roll-out of their new processing rules.
First, and most important, the effective date was extended six months (until March 2023), thus providing more time to continue our dialogue with them. And second, they qualified the rules around the obligation to send monthly receipts. As written, the rule appeared to require alternative notification methods (mail, text, phone) where emails were not available. It's no surprise fundraisers were getting headaches over the anticipated costs and hassles. Says Mastercard, if you don't have an email (or don't have permission to use it) then the monthly notification is suspended for that donor.
Meanwhile, our Mastercard coalition now has these members: Association of Fundraising Professionals (AFP), Council for the Advancement and Support of Education (CASE), Jewish Federations of North America, Fundraising Institute of Australia, and International Fundraising League (IFL).
We have plenty of room and could use your help.
– If you have connections to other nonprofit umbrella organizations, please make an introduction to the coalition.
– Please help us collect data
Here is our paramount need: verifiable and precise information on 12 months of sustainer credit card use (need not separate out Mastercard) with total number of transactions and the total number of back-charges. We have promising preliminary data seeming to bolster our notion that donor back-charges are not part of the problem being addressed. But we don't have much of it. Please help us gather more.
To be verifiable, we need organization name and contact info for the person providing it. But we will keep organization identity confidential until/unless we have permission to do otherwise. Thank you in advance for the help. It's in everyone's interest to provide it.
To help, please contact Bob Tigner at rtigner@tnpa.org