Donors want to know what you need … and how they can help
There's no textbook that teaches us how to navigate the times we are experiencing right now. I don't need to list off the factors that have led us to where we are in August of 2020, but how each piece has connected to one another is perhaps a perfect storm echoing why we work in the space that we do. Helping others in need because our faith, our morals, our desire for social justice, our backgrounds, and our deepest values drive us to put our God-given talents to work for someone other than ourselves.
I have been in the professional fundraising space since 1996 and have been at Cristo Rey Jesuit High School in Chicago since 2017. Our mission is to provide a Catholic, college preparatory education and professional work experience to students from Spanish-speaking families of limited means. That's the technical language.
In my own words though, we educate the children of hard-working, Mexican immigrants and offer young women and men professional networking and growth opportunities that are unparalleled – even for some of the most affluent Jesuit high schools across the country. Cristo Rey was founded in 1996 and since that time, our unique model of education and workforce development has been replicated by 36 other schools in what is now a national network of Cristo Rey schools.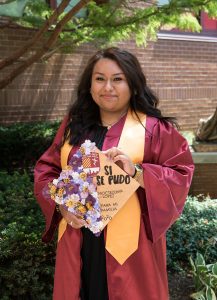 Hundreds of civically minded and socially responsible companies are a part of our Corporate Work Study Program (CWSP.) These companies employ our students who then work five days a month, enabling each student to pay for a majority of their education leaving a minimal amount for families to contribute if they are able. All of our students come from families of great need and each and every one of them comes to us exhibiting real grit and passion to attain a Catholic education and to go on to college.
The ebb and flow of our pandemic-driven economy puts our model at great risk. Companies are struggling financially coupled with the demand for remote work – both factors put our pioneering work study program in jeopardy. How do we sell the Corporate Work Study Program now? How do we renew job partners? How do we sell it for the future? And most importantly, when will it be safe to send our students back into an office environment?
At least we have philanthropy to fall back on – we hope. I met with a major donor last week for a socially distanced lunch in the school's courtyard. I asked him for advice on how to ask for money. He didn't hesitate and told me, "ask now. Be direct and tell me what you need." So I did, and received news that we will see a gift that will be the largest in our history from the family's foundation.
Fundraising at its very core is still about connecting with people. Everything comes down to the human being who receives your message and your call to action. How you convey that message is more important than ever. Your communication strategy has to be robust, clear, easily accessed, and above all – direct. People don't have the bandwidth these days to dive into flowery language and pages of a case statement (which let's be honest, that case statement will probably change in the next 48 hours anyway). They want to know what you need and how they can help.
In all of this, exude transparency and continue to build trust. I think the blessing from this experience is we are being forced to go back to basics – like picking up the phone and having 1:1 conversations with donors – while also being stretched to come up with creative ways to show our missions in action. It's exciting for me to see people younger than me in the profession say how much they are enjoying talking to donors, having the chance to build relationships, and yes, even handwriting notes.
All of this to say, find your mission. Find your voice for others. Be honest. Be transparent. Apologize when you need to. And no matter what, keep trying. The worst thing that can happen is you hear the word no. But what about the yes that will transform a life? In that yes lies the triumph.
Sí se puede!
Morgan Collier is Executive Vice President with Cristo Rey Jesuit High School in Chicago.  A pioneer for inner-city education, Cristo Rey provides a Catholic, college preparatory education and professional work experience to students from Spanish speaking families with limited financial means.  Morgan is responsible for the organization's revenue and operational growth and has deep development experience with Chicago area nonprofits.