Congressional Spotlight: Senator Chris Coons (D-DE)
Each month The Nonprofit Alliance (TNPA) introduces you to a member of Congress who is a leader on legislative matters important to our TNPA community, with representation from both parties.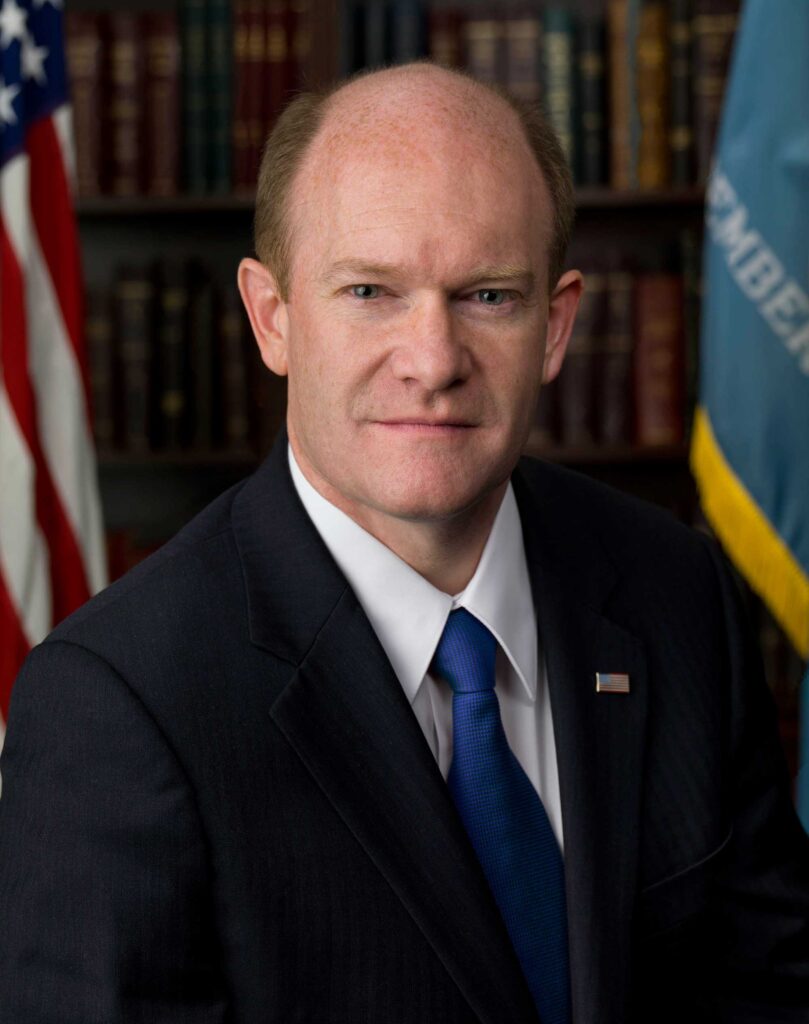 Q&A with Senator Chris Coons
The Nonprofit Alliance has worked closely with Senator Chris Coons of Delaware. TNPA had the opportunity to ask the senator a few questions, and share them here:
Which American political figure has most inspired you?
One of the biggest honors of my career was to serve in Congress alongside the late Congressman John Lewis (D-GA), and to accompany him on civil rights pilgrimages to Alabama, South Carolina, Tennessee, and South Africa. I even had the honor of hosting John in Wilmington in 2015 at a town hall dedicated to the civil rights movement and the challenges we still face today.
John was a dear friend and a very special human being – fierce and relentless about the things that mattered, eager to get into "good trouble" – but also warm, funny, and generous of spirit. He truly was the "conscience of Congress."
What is your favorite restaurant?
There are so many great restaurants in Delaware, it's hard to choose – but I'll pick Walt's Chicken Express in Wilmington.
Prior to this year's Super Bowl, Senator Jerry Moran (R-Kan.) and I made a friendly wager, since we're the closest-residing senators to the Kansas City Chiefs' and Philadelphia Eagles' stadiums, respectively.
Unfortunately, the Eagles lost. Fortunately, we had to pay up in chicken, specifically from Walt's. As co-chair of the Senate Chicken Caucus, hosting a fun, bipartisan staff party with ample Delaware poultry helped ease the pain of defeat.
Which is your favorite sports team? What was the most recent sporting event you attended?
As you might expect from the first answer, I'm an Eagles fan. Go Birds! I'm a Phillies fan, too. I was lucky enough to attend the Phils' resounding 9-1 victory over the Atlanta Braves in the playoffs last fall.
---
More About Senator Coons
Before his election to the U.S. Senate in 2010, Senator Coons served as New Castle County Council President for four years and New Castle County County Executive for six years. Earlier in his career, he worked as an attorney for Delaware-based W.L. Gore & Associates, one of the 200 largest privately-held manufacturing companies in the U.S.
The Senator's appreciation of the important role of the nonprofit community started early in his life when as a law student at Yale, he founded the Delaware chapter of the national "I Have a Dream" Foundation, which helps low-income students make the academic journey from elementary school through college. Shortly after receiving his law degree and clerking on the U.S. Court of Appeals for the Third Circuit, Senator Coons began working at the organization's national office. While there, he launched and ran the organization's AmeriCorps program, which helped recruit and train volunteers to mentor students in 15 cities.
We know the Senator best for his leadership on legislation to create a Universal Charitable Deduction open to all taxpayers, regardless of their income level, when supporting 501(c)3 charitable causes. This legislation expired at the end of 2021, and Senator Coons has been tireless in his effort to reinstate this provision of the Tax Code, which is vital to the nonprofit sector. On February 28, Senator Coons joined his long-time partner in this effort, Senator James Lankford of Oklahoma, to introduce S. 566, The Charitable Act. This legislation would allow all taxpayers — regardless of their income level — to deduct up to 1/3 of the Standard Deduction when making charitable contributions. Currently, the Standard Deduction is $27,700 for married couples filing jointly and $13,850 for single tax filers.
Senator Coons has a diverse group of committee assignments in the Senate. He chairs the Senate Ethics Committee, serves on the Appropriations Committee, the Judiciary Committee, the Small Business and Entrepreneurship Committee, and one of his special passions is his work on the Foreign Relations Committee. The Senator has visited 93 countries — 63 while in the Senate and 30 as a private citizen — and is considered one of the Senate's most knowledgeable members on the African continent, having visited many of its countries.
TNPA has enjoyed getting to know Senator Coons, and greatly appreciates his focus on the nonprofit sector. We look forward to continuing to work closely with him in the future.