Legislative Round-Up | April 2023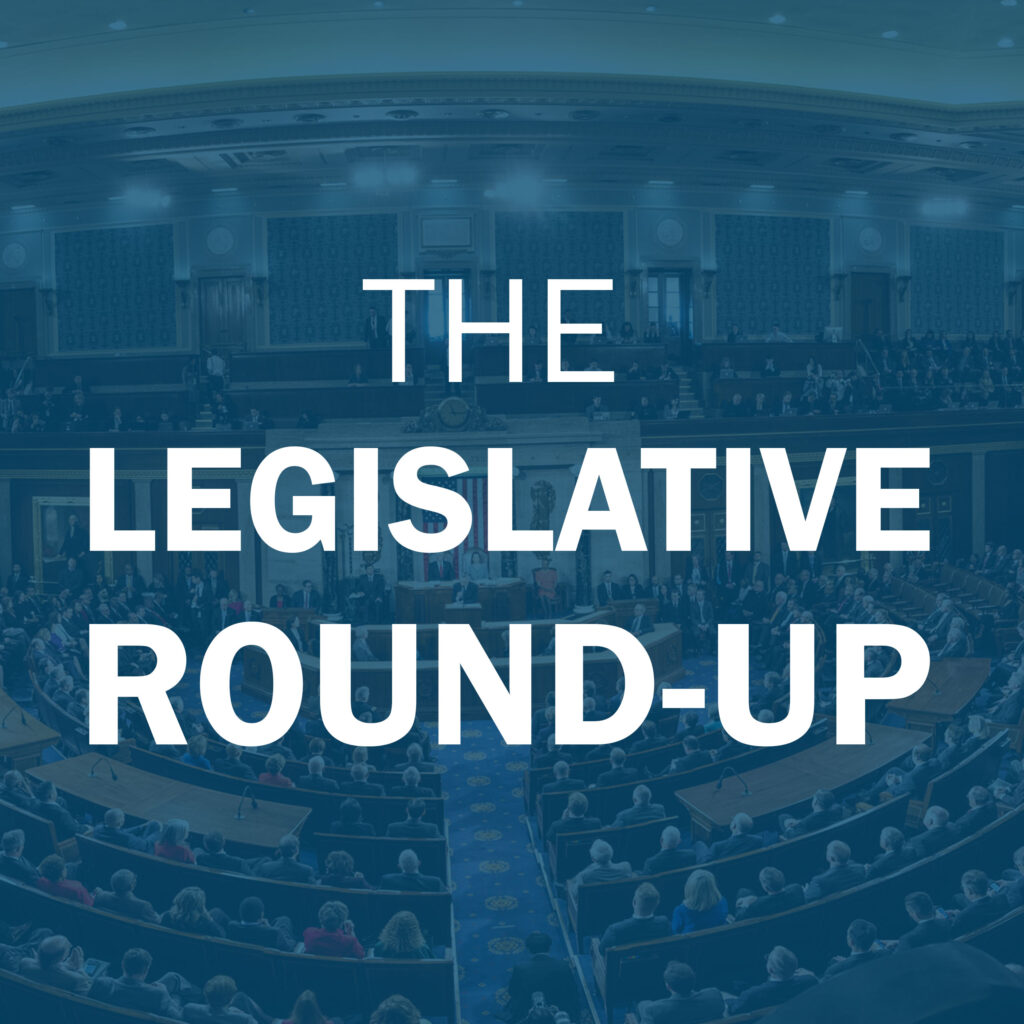 TNPA Hosts Successful Virtual Capitol Hill Day
TNPA hosted another of its Capitol Hill Days on Wednesday, April 19, 2023. This one was once again virtual, but our next event in the summer will be in-person, with TNPA members flying in for a day of meetings on Capitol Hill.
The two centerpiece meetings of the day were with our champions on the Universal Charitable Deduction issue, Senators James Lankford (R-OK) and Chris Coons (D-DE). Senator Lankford thanked TNPA for its continued efforts to help line up additional cosponsors for S. 566, The Charitable Act, on which Senators Lankford and Coons are the lead sponsors. Already 14 Senators have signed onto the Lankford/Coons bill, and it appears that the legislation will soon exceed the level of cosponsorship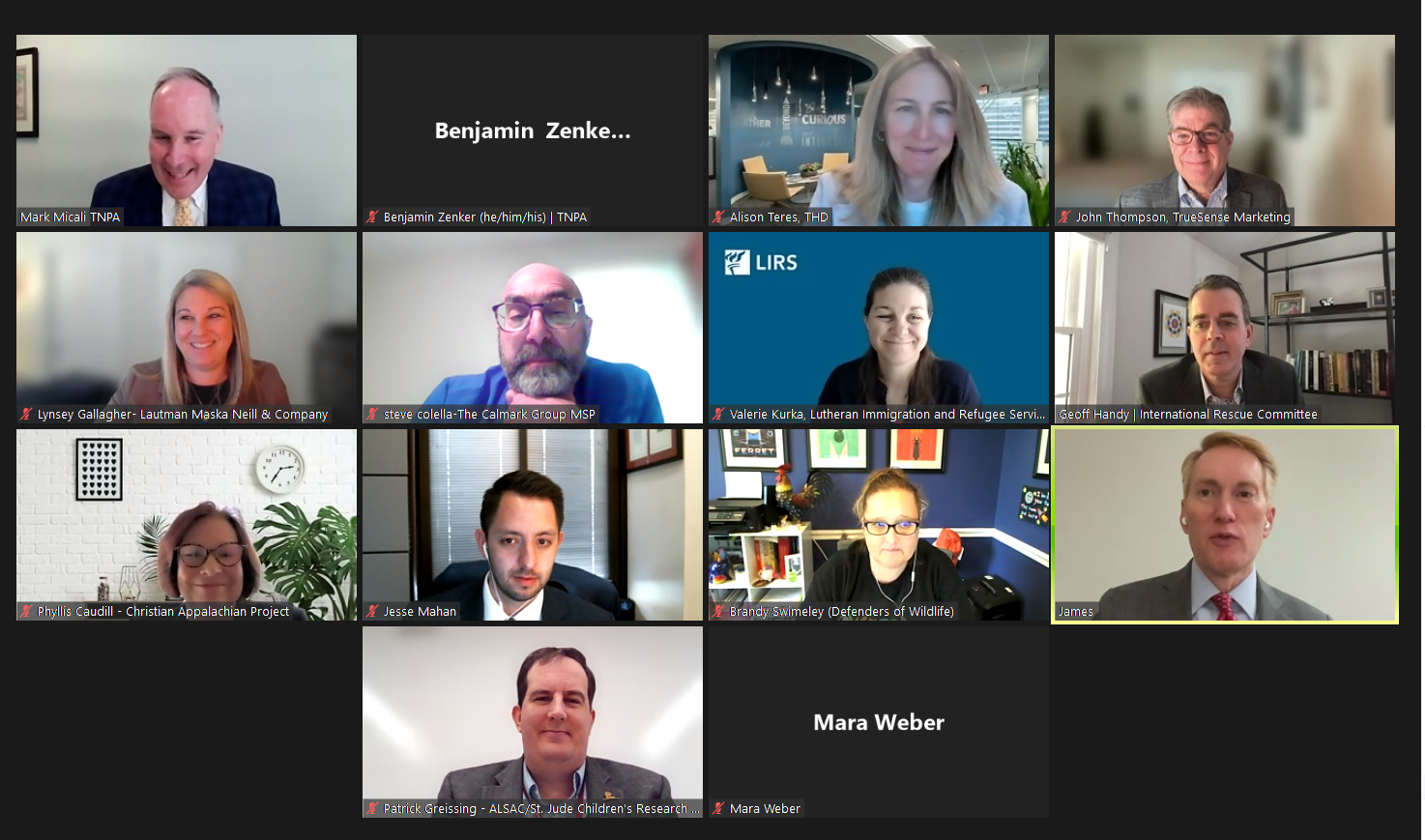 April 2023 Virtual Capitol Hill Day with
Senator James Lankford (R-OK)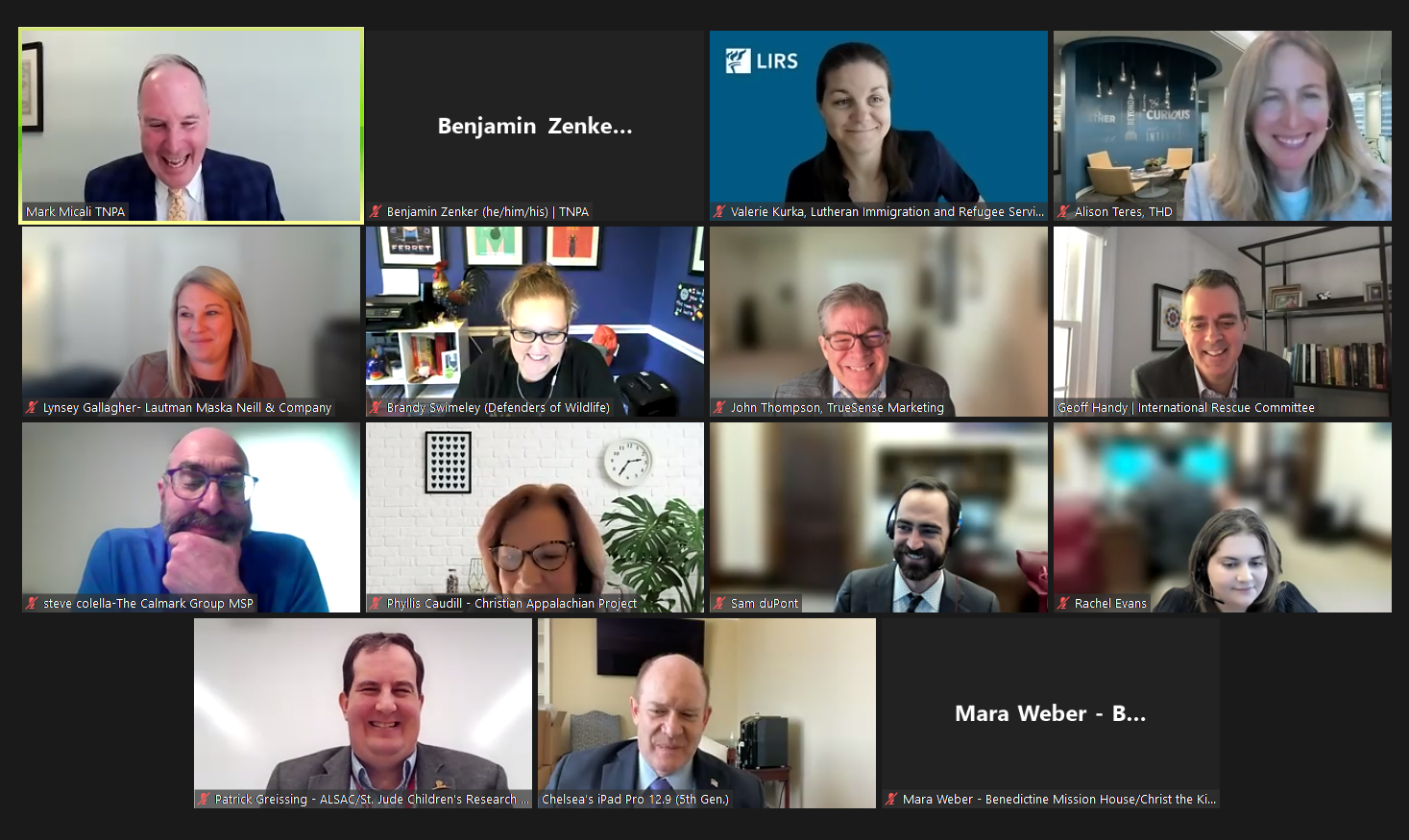 April 2023 Virtual Capitol Hill Day with
Senator Chris Coons (D-DE)
Reflecting on the past, the Universal Charitable Deduction of $600 for married couples filing jointly and $300 for individual taxpayers expired at the end of 2021. Throughout much of 2022, we remained hopeful. It appeared that Congress would adopt the Tax Extenders Package, including our desired deduction. However, this package of 27 recently-expired tax provisions reached a partisan impasse when Democrats and Republicans could not come together on a compromise for the two most high-profile of the 27 expired provisions. Democrats wanted the Child Care Tax Credit extended. In contrast, Republicans wanted the Research & Development (R&D) tax credit extended. However, no compromise was reached, and all 27 expired tax provisions — including the Universal Charitable Deduction — were not adopted.
Fast forward to today, TNPA is again working closely with Senators Lankford and Coons and is determined to get enactment of the Universal Charitable Deduction. This year's version of the legislation calls for not just a one-year renewal, as was the case in 2022, but two years – 2023 and 2024. After our meetings with the two Senators, we are convinced that our two champions on this issue are determined to get their legislation enacted.
Also, the TNPA group had meetings at the staff level with Senators Bob Casey (D-PA), Thom Tillis (R-NC), and Peter Welch (D-VT) to encourage them to sign onto the Lankford/Coons bill.
Additionally, to focus on national privacy legislation, we had meetings with the staff of with Senators Brian Schatz (D-HI) and Jerry Moran (R-KS). In particular, Senator Moran continues to be a strong advocate for comprehensive, bipartisan national privacy legislation.
---
From the States
Iowa's Consumer Data Protection Act was signed into law on March 29, 2023, by Governor Kim Reynolds. Iowa becomes the sixth state that has enacted a comprehensive privacy statute – following California, Colorado, Connecticut, Utah, and Virginia. The new law is modeled after the Utah privacy statute, following an opt-out model that TNPA supports. The Iowa statute will take effect in 21 months, on January 1, 2025. Also, the law does not cover nonprofit organizations. Of the six state privacy statutes, only Colorado covers nonprofit organizations. Although not applying directly to nonprofits, these laws will impact the work of nonprofits as they do apply to our vendor partners.
---
We continue to follow legislation in the states. Read more about new state laws and proposed state bills that could impact the work of the nonprofit sector by visiting TNPA's Legislation in the States webpage.
---
How Vendors Can Support Nonprofits Through Audience Demand for Privacy
NEW DATE & TIME:
Thursday, May 25, 2023 | 2 to 3:30 p.m. ET
— For Vendors Serving Nonprofit Organizations —
Join us in a vendor-only workshop to discuss solutions to supporting the nonprofit sector through key changes that will impact their audience reach and fundraising performance. We'll discuss key challenges we foresee and use the time together to thoughtfully brainstorm solutions to the analytics, audience targeting, and revenue forecasting changes that are on the horizon.
Presenters:
Elyse Wallnutt | Founder, Agility Lab Consulting
Katie Valvo | Vice President of Strategy and Planning, Epsilon
Price: $55 (Vendor Member) | $75 (Vendor Non-Member)
---
ICYMI: Around Capitol Hill with Mark Micali in 90 Seconds | April 2023
TNPA's Vice President of Government Affairs, Mark Micali is here to keep you in the loop on what is happening on Capitol Hill on issues important to the nonprofit sector. This month he covers the latest on the introduction of The Charitable Act by Senators James Lankford (R-OK) and Chris Coons (D-DE), along with privacy legislation in Iowa.
---
USPS Summer Rate Increases
There will be an increase in USPS rates on July 9, 2023.
Here is a summary using representative prices:
First class letters go up .03 to $0.66 | 4.8% increase
First class presort letters (automation) also go up .03 to $0.561 | 5.6% increase
First class presort flats (automation) go up (for first ounce) .166 to $1.234 | 15.5% increase — reflecting the predictable USPS insistence on punishing flats
Nonprofit Marketing Mail letters (automation) go up .013 to $0.226 | 6.1% increase
Nonprofit Marketing Mail flats (automation) go up 0.07 to $0.751 | 10.3% increase
The new prices are not official until approved by the Postal Regulatory Commission. Approval is expected in about a month and seldom deviates materially from the above-proposed rates by USPS. When available, TNPA will post cell-by-cell rate charts on our website.
---
Congressional Spotlight: Senator Chris Coons (D-DE)
Each month TNPA introduces you to a member of Congress who is a leader on legislative matters important to our TNPA community, with representation from both parties.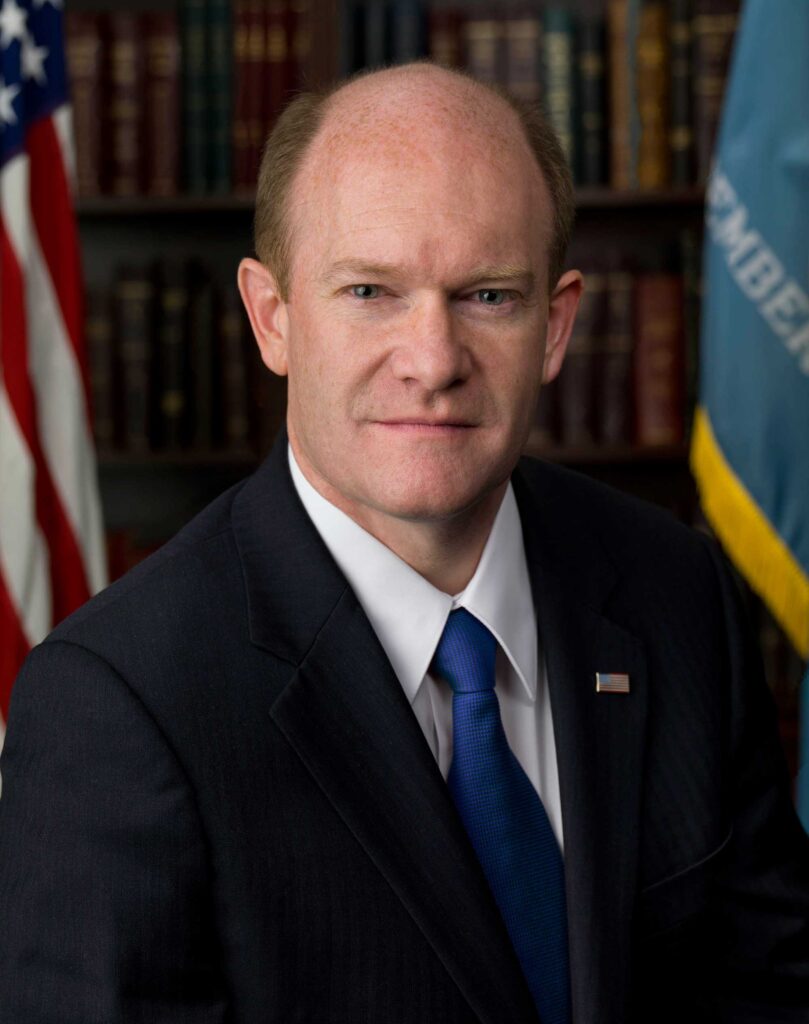 Q&A with Senator Chris Coons
The Nonprofit Alliance has worked closely with Senator Chris Coons of Delaware. TNPA had the opportunity to ask the senator a few questions, and share them here:
Which American political figure has most inspired you?
One of the biggest honors of my career was to serve in Congress alongside the late Congressman John Lewis (D-GA), and to accompany him on civil rights pilgrimages to Alabama, South Carolina, Tennessee, and South Africa. I even had the honor of hosting John in Wilmington in 2015 at a town hall dedicated to the civil rights movement and the challenges we still face today.
John was a dear friend and a very special human being – fierce and relentless about the things that mattered, eager to get into "good trouble" – but also warm, funny, and generous of spirit. He truly was the "conscience of Congress."