Legislative Round-Up | July 2022
July 2022 Legislative Round-Up
Privacy Bill Moves Forward… But With Several Troubling Provisions
On July 20, the House Energy & Commerce Committee reported out for consideration on the House floor H.R. 8152, the American Data Privacy & Protection Act. As previously reported, this measure includes many of the provisions of the draft proposal written and cosponsored by House Energy & Commerce Chair Frank Pallone (D-NJ), House Energy & Commerce Ranking Republican Cathy McMorris Rodgers (R-WA), and Senate Commerce Committee Ranking Republican Roger Wicker (R-MS).
The question now is how far will this legislation proceed given the limited number of legislative days left in this session. With the House scheduled to adjourn for its long August Recess in just three days on July 29, it appears unlikely that the bill would be considered on the House Floor until Congress reconvenes in September. Even then, the timeline remains tight with the pending October Recess for campaigning during this election year. Given the complicated nature of national privacy legislation and the limited number of legislative days left, even if the House were to act on this measure, the Senate is unlikely to take the legislation up by year-end, which will end the current legislative session.
While TNPA continues to call for national privacy legislation, we have significant concerns about this bill.
We advocate for national privacy legislation because it would create a single, clear, uniform set of national standards and guidelines. To accomplish such uniformity, a national privacy statute should clearly preempt any current or future state privacy laws. Unfortunately, the current legislation reported out of the House committee provides for 15 separate "carveouts," allowing portions of existing state privacy laws to continue even after enactment of the federal statute.
Another concern is the legislation reported out of the House committee does apply to nonprofit organizations, which differs from four of the five state privacy statutes enacted in recent years (CA, VA, CT, and UT) that specifically exempt nonprofit organizations. The fifth state, Colorado, does cover nonprofits. Of course, whether or not nonprofit organizations are directly covered by the legislation, the work of nonprofits will be impacted by how the bill restricts our for-profit commercial partners. Nonprofits rely on these partners to effectively and responsibly provide nonprofits with data.
Finally, TNPA opposes a Private Right of Action, which could result in a proliferation of class action lawsuits, many of which would be frivolous. Unfortunately, the legislation reported out of the House committee allows for a Private Right of Action.
Clearly, the legislation reported out of the House committee has several troubling provisions. TNPA continues to work with members of the House to express our concerns with the legislation. We have been in frequent contact with a number of Senators to note our concerns — particularly Senate Republican Whip John Thune (R-SD) and Senator Jerry Moran (R-KS), two members of the Senate who have been deeply involved with the privacy issue for a number of years.
Despite all this movement, it still appears that finalizing national privacy legislation will most likely not happen this year and be pushed to a "next year" issue, when we expect to be back at this again in the new legislative session.
TNPA will continue its dialogue on Capitol Hill to advocate for robust, carefully crafted, bipartisan national privacy legislation.
Read more about Data Privacy under our Policy Priorities webpages.
Neither Snow, Nor Rain, Nor Heat Will Stop the Postal Service, but Excessive Rates and Reduced Service Just Might
BY KEVIN YODER, OPINION CONTRIBUTOR
Former Congressman Kevin Yoder (R-KS) is executive director of Keep US Posted, an alliance consisting of consumer interests, newspapers, nonprofits, industry groups, and businesses advocating for a strong, affordable, reliable Postal Service. TNPA is a member of Keep US Posted and we are glad to share this opinion piece from him.
After the massive mail slowdowns and postage hikes of 2021, Congress took action to financially stabilize the U.S. Postal Service by passing a historic, bipartisan postal reform bill. The bill freed the Postal Service from an unreasonable 2006 law demanding that it pre-fund retiree health benefits 75 years in advance—a requirement that put billions of dollars on the Postal Service's balance sheet each year and motivated it to keep hiking postage rates while reducing services.
Congress passed the 2022 postal reform legislation with the intent to strengthen this critical service and help the Postal Service avoid additional large rate increases and service cutbacks. However, Postal Service leadership has seemingly decided to stamp Congress's message "return to sender."
The very same day President Biden signed the monumental postal reform legislation, Postmaster General Louis DeJoy announced his plans to increase postage prices at an "uncomfortable rate" for some time to come. Specifically, DeJoy and the Postal Board of Governors intend to increase stamp prices again in July, again next January, and as often as twice each year after that. And they can, thanks to a recent Postal Regulatory Commission ruling giving DeJoy the power to initiate postage rates that outpace inflation.
In just a decade, Americans could be paying well over $1 to mail a single letter. Unless Congress takes action again to hold the Postal Service accountable, let's just say we should all be buying "Forever Stamps" while they are still somewhat affordable.
As a businessman and a fellow Republican, DeJoy should know that raising prices generates fewer customers and can lead to less revenue. The same holds true for unnecessary postage increases. They will not only deter individuals from using the mail, but will also drive away businesses, newspapers, nonprofits, and charities—all of which generate more than half of all postal revenues.
The Postal Service already anticipates losing 42% of mail volume over the next decade, driven partly by massive rate increases. Additional unnecessary postage hikes could lead to a huge loss in revenue that will jeopardize the survival of the Postal Service itself and its workforce of 650,000 Americans, many of whom are veterans.
Whether it brings something as special as a handwritten card or something as necessary as medication, the U.S. Postal Service is the only institution capable of going the last mile to reach, serve, and tangibly link every American. Some claim that private couriers like FedEx and UPS could replace the U.S. Postal Service, but that's simply not true.
The Postal Service is unique in that it's obligated to serve every American. It processes more than 425 million pieces of mail (not including packages) each day, delivering them to and from a staggering 163 million delivery points in all of the country's more than 41,000 zip codes. The Postal Service goes the last mile, no matter how rural or remote the address—and that's something no private courier could, or would, do.
What can be done to right the ship? First and foremost, the recently passed postal reform legislation can't be ignored by Postal Service leaders. There are new members of the Board of Governors who should push to challenge DeJoy's plans. At the same time, the Postal Regulatory Commission needs to review the freedom it gave to the Postal Service to raise rates.
But if none of these things happen, Congress needs to step in and take action.
Neither snow, nor rain, nor heat will stop the Postal Service, but excessive rates and reduced service just might.
To read more about USPS changing policies and their impact on the nonprofit sector, visit our webpage USPS & Postal Policy.
The New "Improved" Risky USPS Business Strategy
Stephen Kearney of the Alliance of Nonprofit Mailers has a detailed write up explaining the USPS business strategy. His explanation includes details on the business strategy's positive sides and risks, the USPS Governors, the finances, the public input comment period, and more. It is worth a read:
Two years into his tenure, Postmaster General Louis DeJoy has begun explaining his USPS business strategy directly to customers and mailing industry suppliers. The strategy has become quite clear and it is very simple. It carries significant risks too… READ MORE
Your Input Needed: Colorado Rulemaking on New State Privacy Statute That Could Impact Your Organization
Now is the time to give your input on the rules for the new Colorado Privacy Act. The Colorado Attorney General's office will be taking input from stakeholders until August 5th before it drafts a proposed rule. Both commercial data companies and nonprofits have a clear stake in the rulemaking outcome. Unlike other state laws related to privacy, this Colorado law makes no distinction between commercial entities and nonprofits and will potentially impact any organization having 25,000 or more Coloradans in its databases.
In addition to the unique treatment of nonprofits, the Colorado law could also be interpreted to have a very broad reach, extending to companies and organizations outside the state. The extent to which "processors of data" (as opposed to "controllers of data") will be governed by the law is uncertain. These questions could be settled by this rulemaking.
If you are concerned this new law could impact your organization, time is running out to be heard. To get involved or for more information, contact TNPA's General Counsel Robert Tigner at rtigner@tnpa.org.
Read more about the Data Privacy issue and about privacy legislation at the state level under our Policy Priorities section of this website.
From the States
We continue to follow legislation in many states. For more details and additional state bills that could impact the work of the nonprofit sector, as well as links to the actual bills, visit our States Policy page.
Congressional Spotlight: Senator Gary Peters (D-MI)
Every month, The Nonprofit Alliance will introduce you to one member of Congress who is a leader on legislative matters important to our TNPA community, with representation from both parties.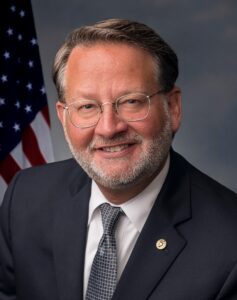 The Nonprofit Alliance has worked closely with U.S. Senator Gary Peters of Michigan. Senator Peters began his public service career as a Rochester Hills, Michigan, City Councilman in 1991. In 1994, he was elected to the Michigan State Senate where he served two terms. During his eight years in the Michigan State Senate, he authored and passed more bills signed into law than any other member of his party. Then in 2008, Senator Peters was elected to the U.S. House of Representatives. While in his first term in the House, he was appointed by the Speaker to serve on the conference committee that wrote and finalized the sweeping Dodd-Frank Wall Street and Consumer Protection Act.
In 2014, he was elected to the U.S. Senate and was re-elected in 2020. During his service in the Senate, Senator Peters has been a leader on a number of issues, including increasing protections for the Great Lakes and securing historic funding for restoration efforts. Having volunteered for the U.S. Naval Reserve at age 34 where he earned a Seabee Combat Warfare Specialist designation, the Senator is acutely aware of the challenges veterans face and has been a tireless advocate for veterans by expanding apprenticeships for veterans and improving the VA Caregivers Program.
We at The Nonprofit Alliance know Senator Peters best for his work on three important issues: he was the lead sponsor in the Senate of the Postal Service Reform Act, which was signed into law this past April; he cosponsored legislation expanding the IRA Charitable Rollover; and he cosponsored legislation to expand the Universal Charitable Deduction. With 88 percent of taxpayers taking the Standard Deduction, and thus not eligible for any tax benefit when supporting a charity, Senator Peters support of the Universal Charitable Deduction has been a real plus. In fact, all three of these measures share a theme that has been central to Senator Peters' career in public service – each has broad bipartisan support and seeks to reach consensus on an important issue.
The Nonprofit Alliance looks forward to continuing to work closely with Senator Peters.
---