Elevating Diversity & Guiding Employment
January 2023




Shreyaa Venkat | CEO of

NEST4US
---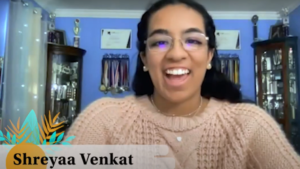 We recently sat down with Georgetown University student and CEO, Shreyaa Venkat, to learn about her nonprofit NEST4US. Read our full interview below or click here to watch video snippets.
---
TNPA: Hi Shreyaa! Can you tell us a little more about you and your organization?
Shreyaa: Hi, my name is Shreyaa Venkat. I am a 20-year-old junior at Georgetown University, majoring in Global Health and the co-founder and CEO of the nonprofit NEST4US, which was formed as a philanthropic platform built upon kindness, generosity, and social good.
Through our five core programs, we tackle over 14 of the UN Sustainable Development Goals and a plethora of other societal issues, including global hunger, climate change, quality, education, poverty, mental health, equity, and so much more. What once began as a small project six years ago, is now a multifaceted global organization fueled by over 5,000 volunteers who altogether contributed over $2.1 million in value of volunteer hours impacting 10s of thousands in over 30 countries across six continents.
At NEST4US, we not only supply essential resources, such as nutritious meals, blessing bags containing toiletries, and PPE and academic materials, but also societal awareness through interactive workshops and social media engagement to spur words into action. Most importantly, we foster a sense of community fueled by love and compassion by providing an overarching support system for each and every individual we come across. This dual approach of awareness plus action enables us to fulfill our vision of empowering people of all demographics to create a more inclusive world for everyone everywhere.
————————————–
TNPA: That's great! So what inspired you to join the nonprofit sector and make a difference?
Shreyaa: Service has been an integral part of my life for as long as I can remember. I started giving back from a very young age, guided by my parent's influence, especially my mom who would bring me along to volunteer at school and community events with her even back in elementary school. That's when I was first introduced to the world of Community service. I had so much fun giving back in the community, especially with my own family, that I wanted to create opportunities where other families and other friends could volunteer together and explore their passions.
And I think that's what was key. I was so passionate about volunteering right from the beginning and this passion is what ultimately led me to form NEST4US along with my sister Esha, through which I offer a multitude of volunteer opportunities for people of all ages and backgrounds to be part of the solution. Ultimately, I paved the way for everyday citizens to discover their, what I like to call, service niche and passions within the social activism sphere in an unrestricted manner.
To me, bringing together various groups of people allows for diverse perspectives, sparking more equitable solutions for the greater good, which is part of our mission statement. This ultimately starts with integrating youth into the decision making in the nonprofit sector. So by giving opportunities for youth to take on leadership roles, I equip them with crucial leadership and communication skills which cultivates the next generation of leaders daily.
————————————–
TNPA: Love that! What are some things your organization has done so far?
Shreyaa: Since we started, we've helped countless people across the globe initiating community-based action and activism by utilizing social engagement as a superpower for catalyzing social good. As mentioned earlier, we have five interdependent programs driven by our strategy of awareness in combination with action that altogether provide a cohesive framework for implementing sustainable practical solutions globally. So first up, we have Nest Nurturers, which tackles global hunger, poverty and food waste through feeding the hungry initiatives, food rescues and hunger-based service projects.
Next we have Nest Tutors through which we ensure personalized continued quality education for kids and young adults worldwide by supplying academic resources, cultural awareness, scholastic guidance, ESL lessons and emotional support.
Then we have Nest Kares with the goal of instilling kindness as a lifestyle rather than a one-time action within the greater community through engagement and blessing, map projects, creation of kindness notes, and the execution of random acts of kindness.
Following that, we have Nest Buddies through which we give underprivileged kids the opportunity to celebrate their birthdays regardless of socioeconomic status with customized birthdays in a box.
And last, but certainly not least, we have Nest Inspires with the goal of networking, empowering, and transforming communities globally via the facilitation of engaging workshops that foster intergenerational conversations about topics like leadership, mental health, climate change, sustainability, and kindness. As well as professional development sessions that build meaningful changemaker networks.
Additionally, we serve as leaders in manifold capacities representing organizations from the United Nations Clinton Foundation, Points of Light, Rare Beauty, Global Peace, L'Oreal Paris, etc.; connecting communities by devising innovative solutions rooted in intergenerational, intercultural, and intersectional change.
————————————–
TNPA: Sounds like a lot of great work. Can you explain the tasks involved in running your own nonprofit organization?
Shreyaa: Let me just start by saying that running your own nonprofit involves a wide range of comprehensive tasks that when each done efficiently, contribute to the overall effectiveness at every level of the organization. But don't be overwhelmed by this. It's simply a bunch of parts involving people with diverse skills and assets working together to make the whole apparatus function to the best of its ability.
So here's a rough framework of NEST4US's organizational leadership approach, which adapts to different circumstances as applicable. So one of the main organizational tasks we do through NEST4US is planning all of our different events and initiatives through our five core programs, taking into consideration key clients, various social issues, target populations, the time and resource required, and community volunteer involvement which is huge. Also, another important piece of the puzzle is connecting with organizations around the world to provide assistance to underserved populations, assess the needs of specific communities, coordinate donations from numerous sectors, develop viable action plans, and offer informative yet engaging resources to the global community.
We also utilize various social media mediums as a volunteer recruitment tool. Gen Z uses more technology in digital education than any other generation, so we're able to use our voices to uplift those who need it most and ignite positive change. In addition, we raise awareness of various societal issues through public engagement, promote existing services and implement the most feasible approaches, involve communities and intergenerational dialogue, and advocacy campaigns, and rally citizens to use their voices to create positive, lasting change.
————————————–
TNPA: What advice would you give anyone thinking about starting their own organization?
Shreyaa: The best advice I would give to anyone looking to start their own nonprofit is to take it step by step. First, start by seeing what you're passionate about and what causes you resonate most with. Once you figure that out, go around your community and try your hand at volunteering for different organizations in your community. Then the next big step is to advocate and get the word out, which I would definitely recommend leveraging social media and technology for because those are going to be huge assets for you.
At the end of the day, don't be afraid to take risks, learn new things and reach out to other people to collaborate for the greater good. Besides, the worst thing that could happen and that you can get in response, is no. So remember when one door closes, three more will open up, so don't give up on whatever goals or dreams that you have just because of one or two setbacks.
Don't forget that solving these issues will take time and effort. At times it may seem like what you're doing doesn't actually make a difference, but the truth is it really does. Every little thing added up contributes a lot to the bigger picture. So always remember that what you do does matter, and even just thinking about these first steps is a step in the right direction.
And lastly, if not most importantly, don't ever believe that you're too young or too old, or that it's too early or too late to change the world because everyone has the power to make a difference. Just thinking about wanting to make a difference and trying out something new that aligns with your passions and ambition is a huge step in the right direction.
————————————–
TNPA: Such great advice! So, in general, why should others get involved in the nonprofit sector?
Shreyaa: I think others should join the nonprofit sector to make a difference because of the extensive array of opportunities, connections and resources accessible to you in this space. There's no one perfect path in the nonprofit world, which is even more advantageous for students because it gives you autonomy in choosing the area or path that connects with what you feel most passionate about and feel that you can make a true, meaningful difference with. In the nonprofit sector, you're also given many opportunities to develop critical career readiness skills, ranging from leadership and cooperation to self-reliance and empathy that can be used in almost every aspect of your life. Also helps you enhance your time management and organizational skills which can go a long way in increasing productivity and success within your careers.
One of my favorite parts about working in the nonprofit sector is also the feeling that I get when I contribute meaningfully to society, as it's so fulfilling and honestly unparalleled. One of the best parts of hands-on volunteering is definitely the connections that we've made, both with our volunteers and those we've served. When we help others directly, we can see the impact first-hand that we make on the people that we're helping, and it's a completely different feeling.
I believe that the best way to get involved with your communities is to help out wherever you can, whether that be donating your money, your time, your knowledge, even if it's just a little bit, that can make a huge difference in your community. There's a way for anyone in the world, regardless of age or background, to get involved in community and join our volunteer family team NEST4US, if you're looking for a head start. Best of luck to all of you!
TNPA: Thank you Shreyaa and best of luck to you as well!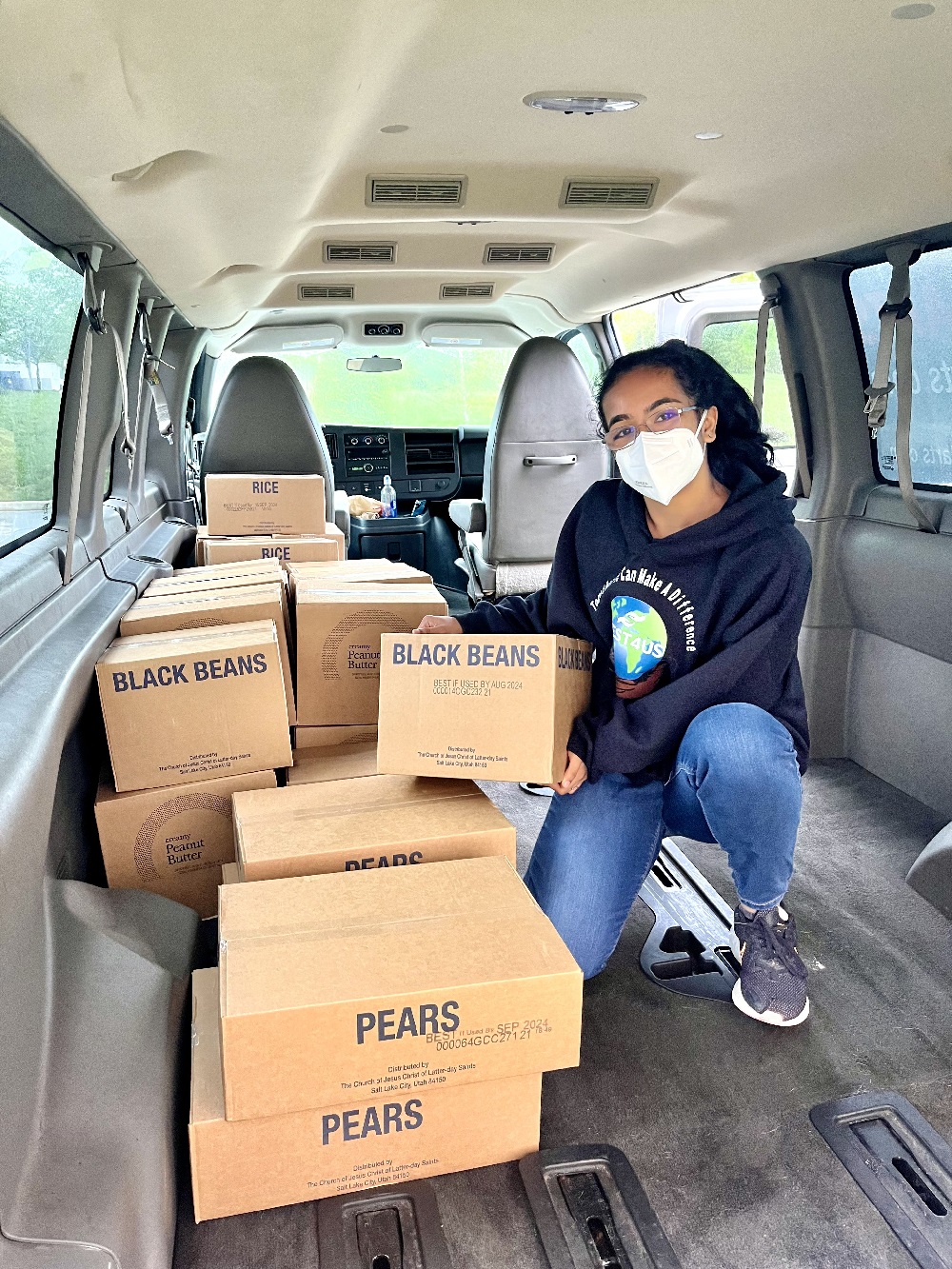 "Zero Hunger" Food Distribution Event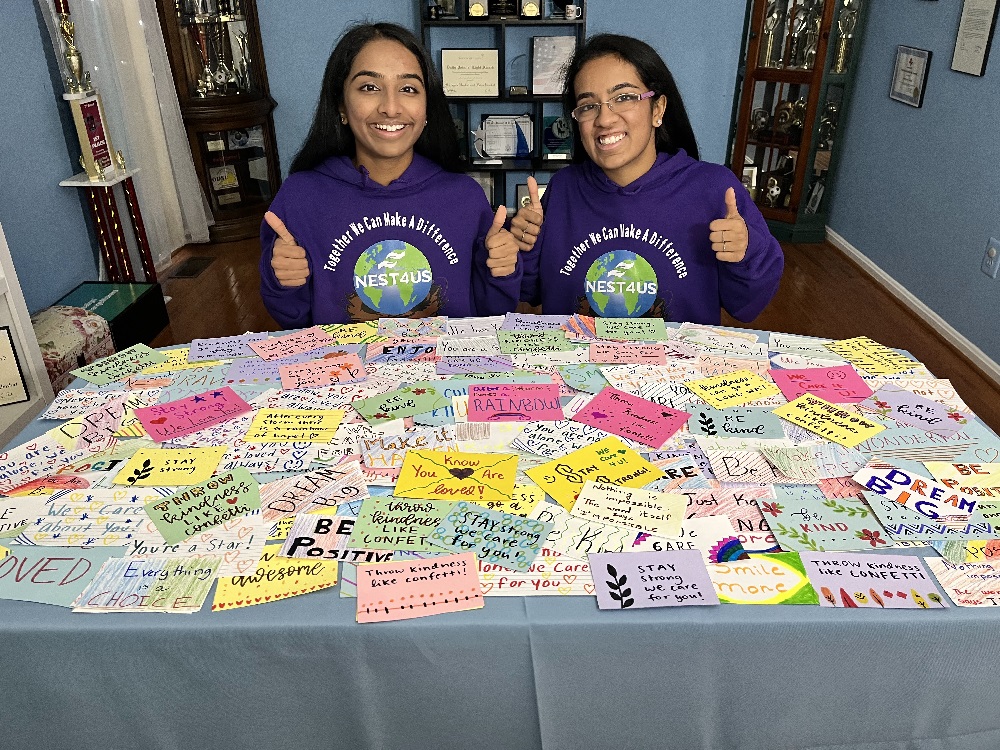 Co-founders Esha Venkat (left) and Shreyaa Venkat (right) sitting in front of "Nest Kares" Kindness Notes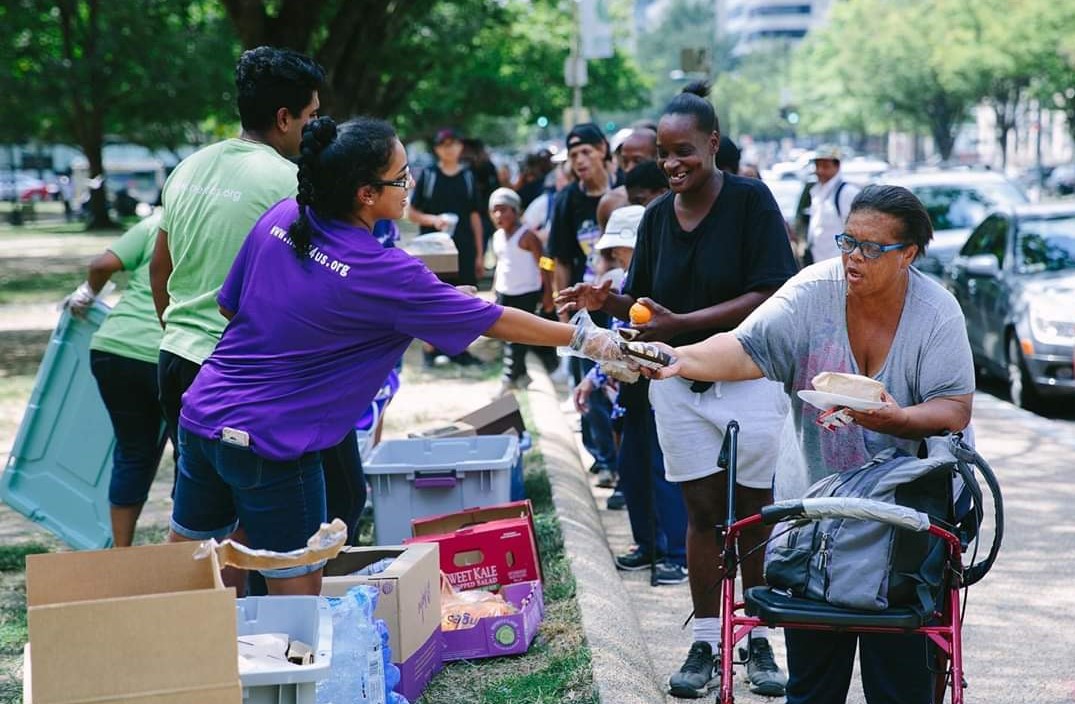 NEST4US serving the homeless community during National Hunger and Homelessness Awareness Week.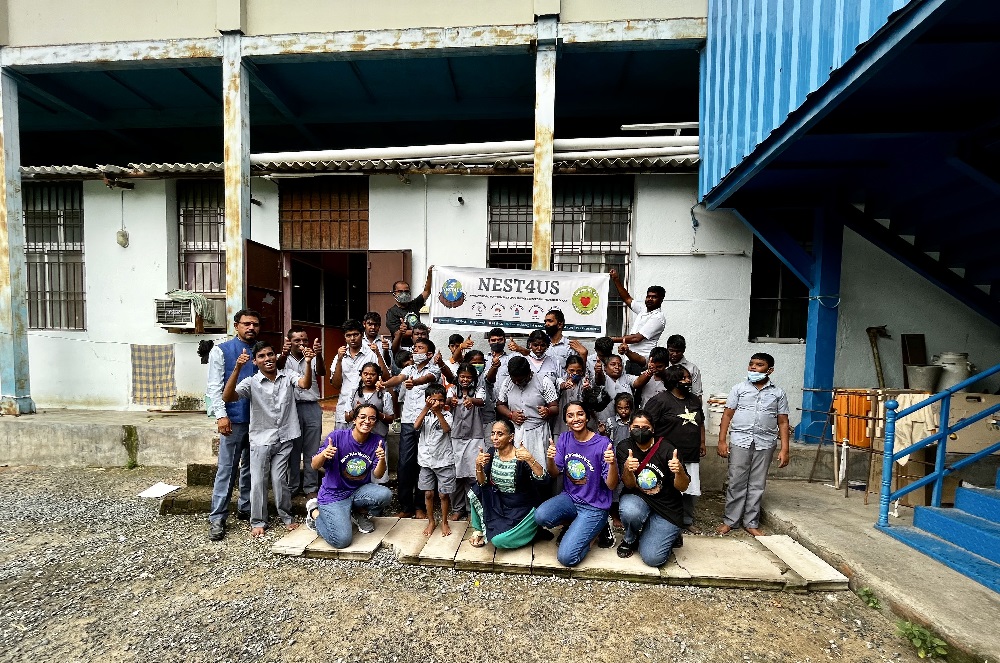 NEST4US serving kids with special needs at Karunai Trust in India.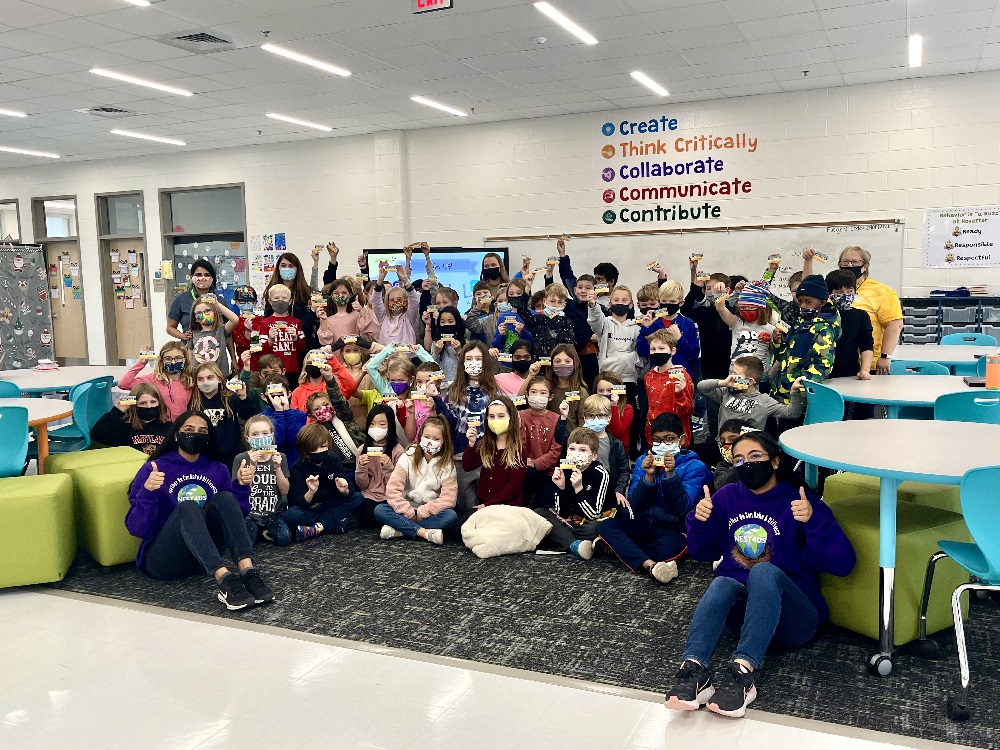 NEST4US giving a "Power of Kindness" presentation.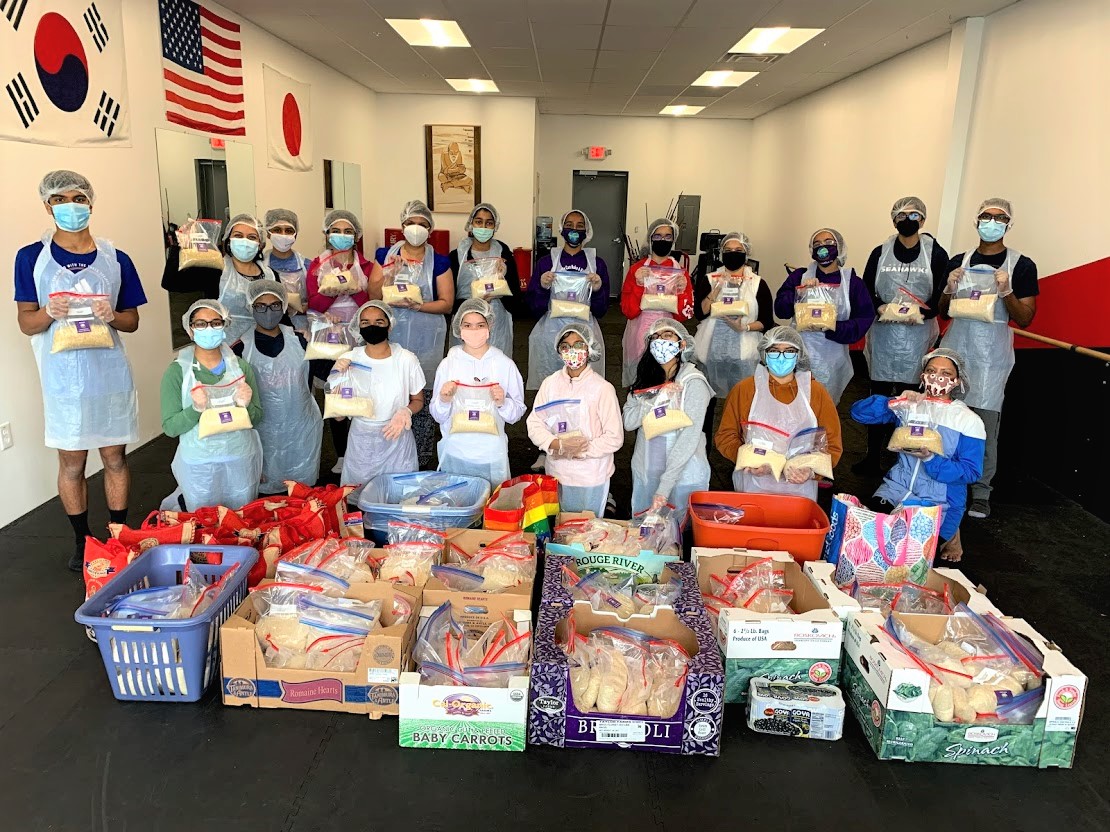 NEST4US at the "GYSD Rice Up Against Hunger" event.
April 2023


Huey Bodger | Senior at The Catholic University of America (CUA)
---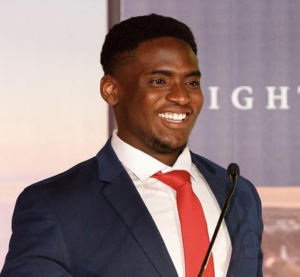 Hear from Catholic University of America (CUA) student and Leading EDGE alum, Huey Bodger, about his experience as a participant and keynote speaker at CUA's annual MLK Day of Service event.
---
This past January, I had the incredible opportunity to participate in the MLK Day of Service, an annual event hosted by Catholic University to honor Dr. Martin Luther King Jr.'s legacy of service. As the keynote student speaker, I shared with my peers what MLK's legacy meant to me and emphasized the importance of doing a job well done. I was inspired by King's words, "If a man is called to be a street sweeper, he should sweep streets even as a Michaelangelo painted, or Beethoven composed music or Shakespeare wrote poetry."
After the speech, I joined the Black Student Alliance, other student organizations, and university leaders to serve our community at the Washington Hebrew Congregation. Together, we worked on various projects such as creating no-sew blankets, making spinach lasagna casseroles, assembling toiletry bags and feminine hygiene products, preparing trail mix, and making turkey sandwiches for those in need. It was a humbling experience to see so many individuals come together and serve those around us.
The event was organized by Emmjolee Mendoza-Waters and her team, who found various opportunities for us to serve in the DC area. It was an honor to be a part of this event and contribute to making a positive impact in our community.
My favorite part of the day was seeing people from CUA nearly seamlessly work alongside other DC residents, specifically when we were preparing lasagnas to be sent out to people in need. Making lasagna is easy in your kitchen, but creating 200+ takes a lot of teamwork.
To me, service means caring about a fellow person, recognizing their human dignity, and following up on this knowledge with action. Everyone needs help at some point in their lives, and everyone should fill those gaps for each other. Service means putting yourself second when the culture we live in would pull you only to serve yourself.
Other people should get involved in their communities because everyone can't be great at everything. There might be a phenomenal artist who knows nothing about cars or a diligent electrician who knows very little about food preparation. But, if everyone is always offering up their talents and time to those who would benefit, we can create harmony in our communities where people will realize that even though their talents are not identical, they are not very different.
An important part of my speech to me was emphasizing a job well done. King said, "if a man is called to be a street sweeper, he should sweep streets; even as Michelangelo painted or Beethoven composed music or Shakespeare wrote poetry, he should sweep streets so well that all the hosts of heaven and earth will pause to say here lived a great St. sweeper who did his job well." When people align their talents with diligence, everyone benefits.