Congressional Spotlight: Senator Susan Collins (R-ME)
Each month The Nonprofit Alliance introduces you to a member of Congress who is a leader on legislative matters important to our TNPA community, with representation from both parties.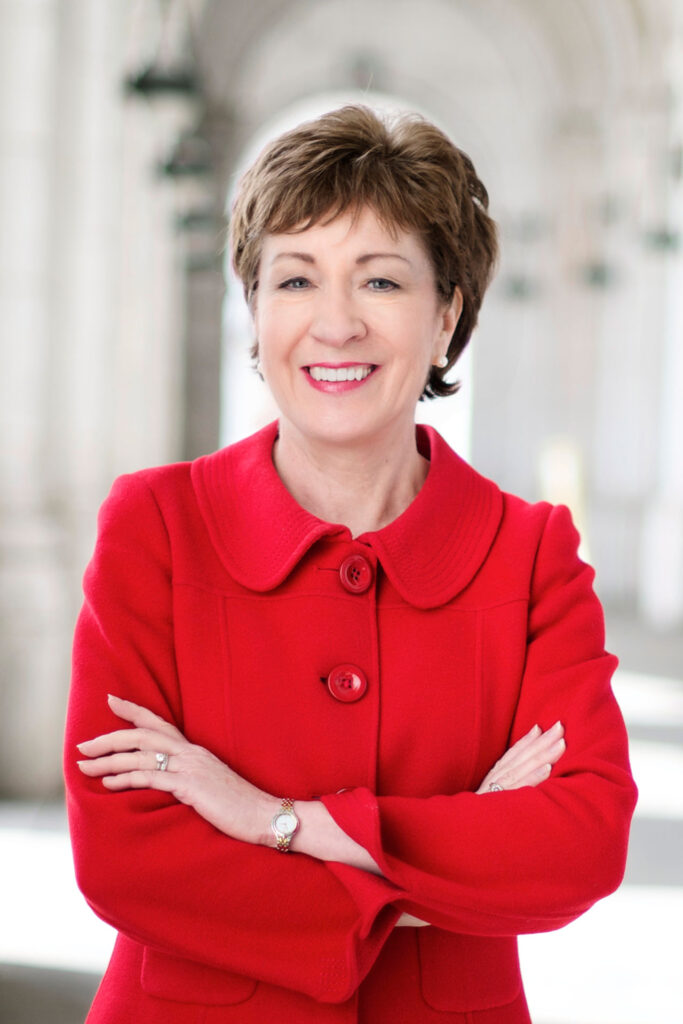 Q&A with Senator Susan Collins
The Nonprofit Alliance has worked closely with Senator Susan Collins of Maine. TNPA had the opportunity to ask the senator a few questions, and share them here:
Which political figure has most inspired you?
In recent times, it would be President Volodymyr Zelensky. Last May, I traveled to Ukraine with Senate colleagues and had the opportunity to meet President Zelensky. There is no more inspiring leader in the world today. It was an incredible journey, under cover of darkness, cloaked in secrecy, and we spent two hours talking with the Ukrainian president. It was an extraordinary experience to witness firsthand the way he has unified his country and the world against Putin's unprovoked and brutal invasion. In this moment of crisis, President Zelenskyy is the right leader at the right time.
What was the moment you realized you were serious about getting into public service?
When I was a senior at Caribou High School, I was one of two students from Maine chosen to attend the U.S. Senate Youth Program in Washington.
The highlight of the week was the opportunity to meet a role model for all Americans, Senator Margaret Chase Smith of Maine. She was the first woman elected to the United States Senate, the first woman elected to both the House and the Senate, and the first woman to have her name put into nomination for president by a major party. More than that, she was a person of uncommon integrity, decency, and conviction.
I was so excited about meeting her. I certainly did not expect our meeting to be much more than a quick handshake and a photograph, but we talked for nearly two hours. We discussed many important issues of the day, but what I remember most was her telling me always to stand tall for what I believed. Common-sense advice means so much more when it comes from an uncommon person.
I left her office so inspired, although I had no idea that I would one day serve in the U.S. Senate. Today, I am honored to hold the Senate seat she occupied with such distinction. In fact, I sit at her very desk!
When you were a child, what did you want to be when you grew up? How would your 10-year-old self react to what you do now?
Some of my first jobs growing up were picking potatoes for a local farmer in Aroostook County and reading to children at story hour at the Caribou Library, but you could say public service is in my DNA. Both of my parents served as mayor of my hometown of Caribou, my father served in the Maine Legislature, and my mother has achieved leadership positions on countless boards and commissions, from the University of Maine System Trustees to Catholic Charities of Maine. I had great role models at home who taught me that you have no right to complain if you don't get involved.
My 10-year-old self would be surprised at my being a Senator. At that age, I wanted to be everything from a ballerina to a dentist to a children's librarian!
What is one thing about you that often surprises people?
People who don't know me well are often surprised by the lasting impact growing up in a rural environment has had on me. Being born and raised in Aroostook County in Northern Maine taught me the importance of people working together to achieve both shared goals and individual dreams.
---
More About Senator Collins
The Nonprofit Alliance has worked closely with Senator Susan Collins of Maine. We know her best for her leadership alongside Senators James Lankford (R-OK) and Chris Coons (D-DE) on legislation to create a Universal Charitable Deduction open to all taxpayers, regardless of their level of income when supporting 501(c)3 charitable causes. This important legislation expired at the end of 2021, but will be re-introduced on Wednesday and Senator Collins will again be active in supporting this measure.

First elected to the Senate in 1996, she was reelected in 2002, 2008, 2014, and 2020. In 2020, she made history by becoming the first-ever Republican woman to win a 5th term. She is also the first popularly elected U.S. Senator from Maine to be elected to a 5th term. She is the eighth-most senior member of the Senate and the chamber's most senior Republican woman.
In 2015, Senator Collins was ranked the most bipartisan member of the Senate by the Lugar Center and Georgetown University. She serves as the Vice Chair (most senior Republican) on the all-important Senate Appropriations Committee. Senator Collins also serves on the Health, Education, Labor & Pensions Committee, as well as the Intelligence Committee.
A long-standing issue of special importance to Senator Collins is healthcare policy. In 1997, she founded the Senate Diabetes Caucus and has led the effort to more than triple federal funding for diabetes research. As the founder and co-chair of the Congressional Task Force on Alzheimer 's Disease, she has also worked to increase funding for Alzheimer's research and to strengthen support for family caregivers. In addition, she has championed efforts to lower the cost of prescription drugs and launched the Senate's first bipartisan investigation into the causes, impacts, and potential solutions to the massive increase in these costs.
The Nonprofit Alliance has enjoyed getting to know Senator Collins and looks forward to continuing to work closely with her in the future.