Bridge Conference 2021 | Key Takeaways
Editor's Note: TNPA is proud to be an official program partner of the 2021 Bridge to Integrated Marketing Conference held on July 14-15. TNPA invited members of our community to share their experiences: highlights, themes, and takeaways. Below, Whitney Norman of Pursuant shares her impressions from the two days of sessions. 
---
I've attended a few other virtual conferences this year and this one had my favorite lobby setup — it almost felt like we were there in person! It was great to be in shared space with so many colleagues and friends again. Bridge also did a great job of showcasing sponsors and vendor partners and the team handled any tech snafus quickly without much disruption to the conference.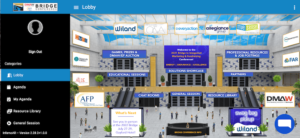 Opening Keynote: Love Your Donors the Phil Psych Way – Jen Shang & Adrian Sargent
The opening keynote with Jen and Adrian really set the tone for the conference in such an authentic and powerful way. The discussion focused on the most genuine and vulnerable human connection we can build with our donors and service recipients — love. Some folks shared in the chat the challenges they've navigated in finding that right "love language" in their organizations. Ultimately, this session opened the door to new thinking and possibilities for connecting with supporters who share the same love for the mission and the community being served. At Pursuant, we often say that "Giving makes us human" — the experiment work they referenced reinforced how people around the world share that human experience and actually feel better about themselves when they give.
Overarching Conference Session Themes
I had the opportunity to attend several sessions over the two days and certainly a great deal of valuable content and ideas were shared in each of them. I did notice a few prominent themes across the conference and in each of the sessions that really resonated for me; I've outlined those themes below.
Greater awareness of the role that emotional and spiritual connection play in the power of our fundraising efforts. My favorite example of this was Tycely Williams' session around Empathy in Stewardship. She highlighted that we can't forget about our donors who lapsed in 2020 and to re-engage them in 2022. Chances are they still care about the mission; they just may have not been in a position to give during 2020 — don't let segmentation remove the human aspect of fundraising.

Leading with data — each discussion I joined led their strategy, planning, and concept share with the data that informed those approaches. (YAY!)

Highlighting the importance of trust and transparency in gathering and using donor data.

Focus efforts and investments in areas that are actually actionable for your teams (one example: only ask for data you are able to use or activate around).

Monthly Giving/Sustainer programs were a focus in several of the sessions emphasizing creating value for these donors, targeting with a specific ask, and reducing barriers to give in this way.
Closing Keynote: Sharing Our Gifts in The World – Reverend Nontombi Naomi Tutu
One word — Powerful. Rev. Tutu has endured and overcome so much in her journey and from that she brings the most inspiring and moving reminder of the power we each possess. We have the responsibility to bring our personal gifts, talents, and voice into everything we do. It is our ability to speak up, stand out, and share that allows us to truly come together.
---
More voices from TNPA:
Bridge 2021 was remarkably well organized with a great mix of higher level discussions and more practical, actionable insights and learnings to guide me in my day to day. For a virtual conference I was pleased to see how interactive and energetic it was. I definitely plan on attending, in person next year (fingers crossed). Thank you Bridge, for a great virtual experience.

—Amy English, Director, Global Monthly Giving, IFAW
---
The session titled "We're Talking Bold Change" that focused on shifting from a Premium to a Non-Premium program was a highlight for me.  This topic directly addressed a strategy that many of my clients are actively working through, so it was very relevant.  The presenters did an amazing job walking through the challenges that lead to the need for the shift, the testing strategies that were considered, how the shift was activated across a period of campaigns, and the results of the program shift testing.

—Stephen Bistram, Senior Account Executive | Nonprofit, Epsilon
---
One of the things I have found myself most thirsty for after the past 18 months of COVID-impact is meaningful interaction with my industry colleagues through conferences and other events. The Bridge session this year didn't disappoint. The session content was valuable, diverse, and rich in information. It was also very encouraging to see how participatory the attendees were, within the two sessions I was involved with. One of my primary concerns about virtual conferences is how engaging we (as speakers) can be — and it was nice to see the level of interaction happening within the chat of those sessions.

—Erica O'Brien, Principal/Owner, Fuse Fundraising
---
Editor's Note: Congratulations to Bridge Conference, DMAW, and AFP-DC on the successful event! All 72 sessions of 12 tracks at Bridge have been recorded and are available to registrants through August 2021. Registration is still available to access those recordings.