TNPA Legislative Report | September 2020
As Congressional leaders are headed back to their home states for the final stretch of campaigning before Election Day, our update this month is a wrap-up of the 2019-20 session — starting with a brief video recap of our September 16 virtual Hill Day (with more details below).  We also cover the September 22 Executive Order on Combating Race and Sex Stereotyping, which has implications for organizations that receive federal grant money or use federal contractors.
Congress Set to Adjourn for November Election, Leaving Many Issues Yet to be Resolved
Last week the House passed by an overwhelming bipartisan vote of 359-57, a Continuing Resolution funding all the federal departments at their current levels through December 11, 2020. The Senate will take up this legislation later today and is expected to pass it without any changes, and then send the measure on to the President, who has said he will sign it into law. With the federal fiscal year ending tomorrow, September 30th, the legislation needs to be signed into law to avoid a government shut down.
The Continuing Resolution is largely a "clean funding bill," with only a few additional add-on measures: aid to farmers through the Commodity Credit Corporation and some limited funding for nutrition programs, including funding for school children impacted by the coronavirus. All other issues have all been "kicked down the road" to be addressed in either a post-Election lame duck session of Congress (after the November 3rd Election, but before the new Congress is seated on January 3, 2021) or in the new Congress which will begin its work on January 3, 2021.
Nonetheless, some important progress has been made on TNPA's primary issues of interest:
Universal Charitable Deduction – Importantly, it is now part of the Tax Code! The $300 Universal Charitable Deduction for 2020 is in statute. The challenge going forward will be to make this provision permanent and raise the $300 cap. Earlier in the month the Senate considered the Republican "slimmed down" Covid aid package, which included a provision raising the cap for 2020 to $600 for single taxpayers and $1,200 for married couples filing jointly. While the Senate Republican package failed to receive the necessary 60 votes to proceed toward further consideration, these higher cap levels are now part of the legislative history on this issue – a real plus as we move forward. Additionally, the bipartisan Universal Charitable Deduction Bill of Senators James Lankford (R-OK) and Chris Coons (D-DE) continues to gain momentum, with 10 Senators having now signed on to the legislation.
Enactment of Federal Privacy Legislation – This continues to be a major challenge. Despite the efforts of Senate Commerce Committee Chairman Roger Wicker (R-MS), Senate Commerce Subcommittee Chairman Jerry Moran (R-KS), and Senate Majority Whip John Thune (R-SD), the effort to enact national privacy legislation remains stalled in the Senate. In the House, Congresswoman Suzan DelBene's (D-WA) national privacy bill now has 34 cosponsors. An important bipartisan foundation has been laid on this effort as we move into 2021.
Enacting Structural Reforms to the Postal Service – For those who remember the long effort to get the Postal Reform Act of 2006 enacted into law, getting Congress to enact changes to the USPS is no easy task. However, TNPA has been working with both Republicans and Democrats in the House and Senate to get needed reforms enacted into law. After the November Election is behind us, and with it the many front-page stories involving voting by mail, we anticipate a less partisan discussion of this issue as we move into 2021 and beyond.
Expanding the IRA Charitable Rollover – Through the determined efforts led in the Senate by Senator Kevin Cramer (R-ND), and led in the House by Congressman Don Beyer (D-VA), legislation to lower the age of eligibility from 70 1/2 to 65 for the establishment of an IRA Charitable Rollover continues to move forward. The next step is to get language lowering the eligibility age into the so-called "Retirement Tax Provisions Package" expected to be taken up by Congress early next year.
TNPA Conducts Its First-Ever Virtual Capitol Hill Day
On September 16th TNPA conducted its first-ever Virtual Capitol Hill Day. And it was a fast-paced day! Our participants had a total of 10 congressional meetings. To put some perspective on this number, in TNPA's previous face-to-face Capitol Hill Days, participants never had more than seven meetings in a day.  The same four distinct issue areas discussed above were covered in our day of meetings:
The need for making permanent the current temporary – for 2020 – Universal Charitable Deduction and raising the cap on the deduction from $300 to a higher level – Three meetings with top legislative aides for Senators Chris Coons (D-DE), James Lankford (R-OK), and Tim Scott (R-SC) on the Universal Charitable Deduction. Specifically, 10 Senators have now signed on to the Lankford/Coons Universal Charitable Deduction Bill.
The need for national privacy legislation to provide one uniform "Rules of the Road" for the handling of data – Discussion with a top Senate Republican aide on the privacy front – Senator Jerry Moran's (R-KS) legislative aide, who has been literally "living" the privacy issue for the last two years. Senator Moran chairs the Commerce Committee's Subcommittee with privacy jurisdiction and has introduced a very thoughtful privacy bill, similar to Congresswoman DelBene's privacy legislation.
Structural reform of the Postal Service – Two postal meetings with two top Senate aides on the challenges we face in moving forward on badly needed postal reform legislation in 2021 and beyond; in particular, the need to integrate postal workers into the Medicare system, rather than having their retiree health care costs covered exclusively by the Postal Service.
Legislation to lower the age of eligibility for establishing an IRA Charitable Rollover from the current age of 70 1/2 to 65 – With 10,000 baby boomers turning 65 each day, lowering the eligible age to 65 would represent an important opportunity to enhance our fundraising efforts: Senator Kevin Cramer's (R-ND) Deputy Chief of Staff's review of the effort to lower the eligibility age to 65 for establishing an IRA Charitable Rollover. Senator Cramer is the lead Senator on this issue.
The highlights of the day were the meetings with Congresswoman Suzan DelBene (D-WA) and Senator Jacky Rosen (D-NV).
Congresswoman DelBene (D-WA) – The Congresswoman has already become an important champion for our sector. Her national privacy bill, which has 34 cosponsors, has a clear federal preemption and litigation relative to a federal statute must be filed in federal court – not state and local courts – to ensure more uniform application of the law. Also, the Congresswoman has cosponsored the IRA Charitable Rollover Bill lowering the age of eligibility to 65.
Senator Jacky Rosen (D-NV) serves on the all-important Senate Commerce Committee, which has principal jurisdiction in the Senate for privacy legislation. The Senator is one of the important "moderate swing Democrats" on the privacy issue, as well as someone who spent the earlier part of her career as a computer programmer/systems analyst. She clearly appreciates the challenges we face in terms of crafting an effective national privacy statute.
Additionally, we had a "40,000 foot view" conversation about what may be happening on the Hill in the coming months with Senator Joe Manchin's (D-WV) Chief of Staff.
Executive Order on Combating Race and Sex Stereotyping
On September 22, President Trump issued an Executive Order (EO) regarding employee training that includes "divisive concepts," "race or sex stereotyping," and/or "race or sex scapegoating." The EO was put forth on the basis that "many people are pushing a different vision of America that is grounded in hierarchies based on collective social and political identities rather than in the inherent and equal dignity of every person as an individual. This ideology is rooted in the pernicious and false belief that America is an irredeemably racist and sexist country; that some people, simply on account of their race or sex, are oppressors; and that racial and sexual identities are more important than our common status as human beings and Americans."
We strongly encourage you to read the full EO to understand the terms and assumptions cited above, and the full context of the order.
The EO appears to have a broad reach to include federal agencies, federal employees, federal contractors, and federal grant recipients. There are limitations to the reach; for example, the EO covers recipients of federal grants, and also clarifies that the limitation may only be on how those specific funds are used.
It is yet unclear whether or how this will be enforced by the current administration. Executive Orders remain in effect until revoked by the issuing President or a future President.
Congressional Spotlight
Every month, The Nonprofit Alliance will introduce you to one member of Congress who is a leader on legislative matters important to our TNPA community, with representation from both parties.
Congresswoman Suzan DelBene (D-WA)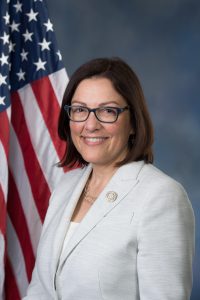 The Nonprofit Alliance has worked closely with Congresswoman Suzan DelBene of Washington State. Prior to her service in Congress, the Congresswoman had a distinguished career in the private sector, having first worked in the biotechnology industry, and later embarking on a successful career as a technology leader and innovator. In more than two decades as an executive and entrepreneur, she helped to start drugstore.com as its vice president of marketing and store development, and served as president and CEO of Nimble Technology, a business software company based on technology developed at the University of Washington. The Congresswoman then spent 12 years as an executive at Microsoft, most recently as corporate vice president of the company's mobile communications business. The Congresswoman also served as Director of the Washington State Department of Revenue. During her tenure, she proposed reforms to cut red tape for small businesses. She also enacted an innovative tax amnesty program that generated $345 million to help close the state's budget gap, while easing the burden on small businesses.
In 2012 the Congresswoman won election to the Congress and immediately began to draw on her mix of experience in both the private and public sectors. She secured $200 million of much-needed job-training funding. She also was a leader in the passage of legislation to allow state, local and tribal governments to implement community-based substance use diversion programs to address the opioid epidemic. And in an area important to the nonprofit sector, the Congresswoman has been a leading voice in the area of data/privacy legislation. In fact, her bill H.R. 2013, Information Transparency & Personal Data Control Act which has attracted 34 cosponsors in the House, focuses on striking the fine balance between effectively protecting privacy of individuals' information, while allowing the legitimate use of data that is critical for nonprofits to secure resources and more effectively carry out their mission.
As a member of the tax-writing Committee on Ways & Means, the Congresswoman is a cosponsor of legislation to lower the age of eligibility for establishing an IRA Charitable Rollover from the current age of 70 1/2 to 65. With 10,000 baby boomers turning 65 each day, lowering the eligible age to 65 would represent an important opportunity to enhance the ability of charities to strengthen their fundraising initiatives, allowing them to more effectively carry out their missions.
In this "era of COVID-19," the Congresswoman has been a leader in supporting an expansion of the bipartisan employee retention tax credit. This credit is the central jobs plan in the House's Heroes Act. It would cover up to 80% of $45,000 of a worker's qualified wages through the end of the year. This would allow small businesses and nonprofits to keep their employees on payroll and connected to their benefits during this difficult time. It better positions organizations and workers for when the economic crisis is over and commerce resumes. It is estimated to keep nearly 60 million workers on payroll and off unemployment this year.
The Nonprofit Alliance looks forward to continuing to work closely with Congresswoman Suzan DelBene.