Practicing Democracy: A View from (virtual) Capitol Hill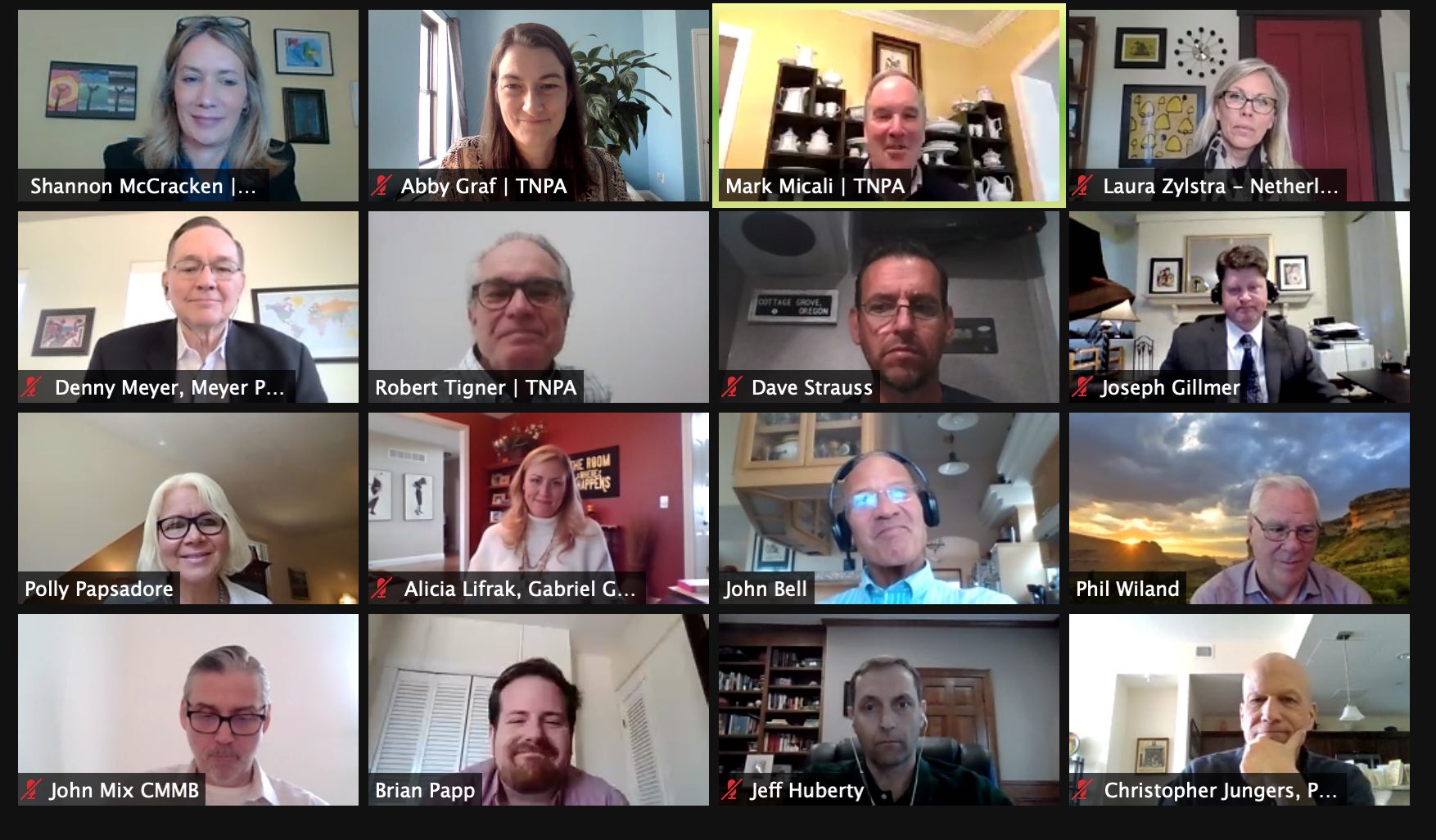 The opportunity to gather in our nation's Capital, even virtually, as we still do in 2021, is a tremendous honor and responsibility as we advocate for key legislative issues that directly impact the nonprofit sector. On April 20, 2021, The Nonprofit Alliance (TNPA) once again gathered a contingent of leaders from the philanthropic community to ensure that our voices are heard, and our priorities are understood. 
Among the topics addressed, the need for a strong national privacy statute, the expansion of the Universal Charitable Deduction, and postal reform remains front and center as core issues requiring legislative leadership from both Senate and House members on both sides of the aisle.  
This is an incredibly meaningful experience and a special opportunity to engage with our elected representatives and get a behind the scenes look at the work that goes into creating any piece of legislation. Each of the individuals we met with were smart, committed, and passionate about the issues we discussed. Their hard work and level of engagement was obvious. While they are each cognizant of the politics that exist in the process, it was refreshing to see that the impact of the legislation on their constituents, and the steps that need to be taken to get certain policies across the finish line, was a much bigger driver. 
The nonprofit sector is the third largest private employer in the U.S. They are a key driver of the economy in every respect. The work that nonprofits do in local communities and on the national landscape is as broad and far-reaching as you can get. Whether addressing food insecurity, animal welfare, education, health care, conservation, or seeking the cure to a disease, our nonprofits are tackling the biggest issues we face as a population and it's hard to imagine that anyone is not impacted in some way by a nonprofit out there. To that end, the work we do, and the sustainability of those organizations, affects everyone. 
The USPS is integral to the work that many nonprofit organizations do as they provide the ability to raise funds, acknowledge gifts, and educate the masses on their missions. The overwhelming majority of direct response fundraising is still driven by the mail and so postal rates have a significant impact on how charities fund their mission and programs. We are facing a daunting mid-2021 6.5% to 8.5% increase in postal rates (depending on the class of mail). TNPA has been working hard to make sure the nonprofit sector is coming together to stand up and be counted on this important issue.  
Enactment of a national privacy statute that provides one clear national standard for the handling of data has been a hallmark issue for TNPA. The real risk of having to deal with a patchwork quilt of varying state privacy statutes is a significant concern. In fact, we will continue to face efforts to enact varying—and often contradictory—privacy bills in numerous states. Accordingly, we need to drive home the point as to how vital data is to nonprofits for BOTH finding donors and carrying out our important missions. 
TNPA continues to press for expansion of the Universal Charitable Deduction. The deduction for 2020 was a flat $300 and was raised by Congress late last year for 2021 to $600 for married couples filing jointly and $300 for individuals. Since the enactment of the 2017 Tax Reform Act, only 12% of taxpayers itemize their deductions. Thus, there is no tax benefit for the 88% of Americans who do not itemize their taxes and thus may not claim a deduction when they support charitable causes. 
There is an adage that no one really wants to see the sausage get made but, in this case, participating in the process of how we get to "Yes" on these key legislative issues, was a tremendous honor.  I am exceptionally proud to participate – not just as a member of the nonprofit sector and alongside the amazing colleagues who represent it, but as a citizen in this democracy. 
If you also have the desire to participate, please don't hesitate to reach out to your elected officials to advocate on behalf of the organizations and causes that you love. If we heard one thing loud and clear, it's that YOUR voice matters the most, so I hope you will join us in getting us to YES! 
Editor's Note: For more information about these policies, visit TNPA.org, and read our "Policy Priorities." 
TNPA thanks the Members of Congress and their staff for scheduling meetings and generously sharing their time and thoughts: Senator Catherine Cortez Masto (D-NV), Congressman Peter Welch (D-VT), and the offices of Senator Tom Carper (D-DE), Senator James Lankford (R-OK), Congresswoman Carolyn Maloney (D-NY), Senator Gary Peters (D-MI), Senator Jacky Rosen (D-NV), and Senator Tim Scott (R-SC).