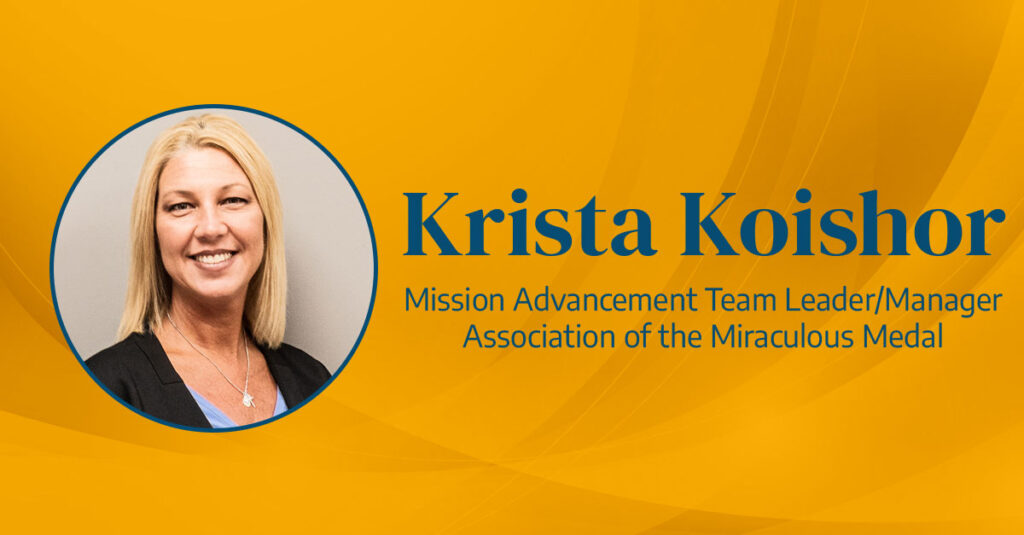 People to Watch | Krista Koishor
What is your hometown, and where do you currently reside?
My hometown is Perryville, MO and I currently live here too. I grew up here, attended our local Catholic school St. Vincents K-12 and slowly but surely circled back around after I graduated High School.
I went on to Quincy University, a Catholic University in Quincy, IL and upon graduation moved to Springfield, IL for my first job in sales for a large Radio Broadcasting Group. After the birth of my first child, I decided to be closer to home and moved to Cape Girardeau, MO to continue on as a Senior Sales Representative for a new Radio Broadcasting Group. After a decade of radio, I changed things up for the next 10 years as a Top Tier Pharmaceutical Representative, covering Southeast MO. My journey wasn't over in sales after that, but my soul definitely was searching.
After a few trials with other sales and buyer situations, my heart finally lead me to the Association of the Miraculous Medal. After years of being on the road and all over three states, I landed in my hometown again, working for a place I knew so well. My husband, Joey, daughter (Alexana) and two sons (Shawn and Sam) fill a home we built almost 20 years ago – near my parents – and enjoy the quiet calmness of a small town.
What inspired you to do the work you are doing today?
Relationships. My relationship with God, the Blessed Mother, and others. I love to talk to others, really hear them and help guide them spiritually. I love this place, always have and being able to share the story of the Miraculous Medal with so many people, while being there for them when they need someone is amazing. More now then ever, others need to know this place exists and it is open to everyone. More now then ever, people need to know they are being prayed for and they are not alone.
Do you have any advice you would give to your younger self, and what advice would you offer to someone just starting in their Catholic-fundraising career?
I would tell my younger self to trust God in every step of the way. I would tell myself that there are going to be some big hills to climb, but everything you are going through is going to make you stronger and a better person. Everything you are learning is preparing you for and helping to guide you to the spot you are in now.
Don't worry so much, He hears you, He will not let anything happen that you can't handle. Stay focused on the mission and the position. When you find that Catholic Fundraising position, listen, listen, listen to others – your co-workers, your experienced leadership and especially your donors. Learn from them and use your fun and faith filled personality to guide them to where you need them to go.
What do you like to do in your spare time?
I love more than anything, to be with my family. I love when we are all together whether it is sharing a meal, going to Church, running to the store or a road trip. I love hearing their voices and knowing they are close. I very much enjoy yard work and reading a good book too!
What does being a member of the Catholic Development Council (CDC) mean to you?
Being a member of the CDC means so much to me. Being a part of a larger group that, like myself, works hard to share their Mission with others reminds you that you are not alone in this journey. This group of very special people are faith filled and open to others. They share their struggles and successes and want nothing more,  but to see others shine. You can tell how important their mission is to them and you can see how hard they work to make things happen. The power of prayer, determination to keep things going strong, and faith are consistently felt and seen in all their good works.
Each month TNPA will spotlight a member of the CDC community.
To make suggestions for future installments, email bzenker@tnpa.org.