Legislative Round-Up | April 2022
Included in this Round-Up
Oklahoma Senate Blocks Opt-In Privacy Bill
After passing the Oklahoma House, Representative Collin Walke's opt-in privacy bill, HB 2969, did not move forward in the Oklahoma Senate. Since the Oklahoma Senate did not take action on this legislation by April 14th, the legislation effectively died for this year's legislative session. Had this measure been enacted into law, Oklahoma would have had the nation's first opt-in privacy statute.
Read more about Data Privacy.
Read about other state laws being proposed or enacted on our page Legislation in the States.
Colorado AG Begins Rulemaking Process for Privacy Law
For TNPA Commercial Data Providers and Larger TNPA Nonprofits, NOW is the time to get involved
As we at TNPA know, burdens placed on data providers will affect nonprofits' access to the data they need. Third-party data is essential for both fundraising and program efficiency. But as an unwelcome first, Colorado proposes to directly regulate nonprofit data controllers.
On April 12 the Colorado Attorney General announced via email the first step in the process by which the law's regulations (or "rules") will be made. The email requested input with a list of specific questions and issues which will certainly be the subject of regulations. Significantly, it also invited comment about what other issues should be addressed in the rulemaking.
Of course, not every nonprofit or commercial data provider will be subject to the law. Commercial providers will be covered if they "conduct business" in Colorado (e.g., reside there, have employees there, or have clients there) and control or process the data of 25,000 Coloradans. Likewise, nonprofit organizations residing in Colorado or having employees or operations there will be covered if they have 25,000 Coloradans in their databases. Nonprofits could also be considered to "conduct business" in Colorado by registering to solicit funds.
Compliance won't be easy or inexpensive. Please, while compliance details can still be shaped, share this with your CFO, in-house legal counsel, COO or other top administrator who will want to understand the cost implications. Have them reach out to TNPA General Counsel Bob Tigner for a set of materials which will help them sharpen their focus and learn the stakes in this process (rtigner@tnpa.org, 202-293-9640).
To read about other state laws being proposed or enacted, visit Legislation in the States.
Regulations Amending Requirement to File Schedule B to IRS Form 990 Promulgated
Released by the New York State Charities Bureau
The New York State Attorney General's Office has amended its regulations to reflect changes in the Charities Bureau's requirements for filing Schedule B to IRS Form 990. The new requirements will be implemented when the Charities Bureau upgrades its online annual filing form (CHAR500) in June 2022.
Pursuant to amended regulations effective March 16, 2022, public charities that file Schedule B with the Internal Revenue Service can omit the names and street addresses of donors on Schedule B filed with the Charities Bureau.
Public charities that file Schedule B with the IRS will be permitted to do either of the following:
Submit Schedule B with only the amount of each donation and the state where the donor is located, or
Select from a series of dollar ranges in the electronic annual filing form (CHAR500) to indicate the gross amount of contributions received from New York donors.
Organizations that do not file Schedule B with the IRS will be required to include, in the electronic annual filing form, the gross amount of contributions raised in New York in a reporting period by selecting from a series of dollar ranges.
Private foundations are required to continue filing Schedule B as part of their annual financial report.
The Charities Bureau is currently updating its electronic annual filing system (CHAR500). The system will be reconfigured in June 2022 to accept the financial information described above. Charities that have annual financial reports due prior to the system update will not be required to include this information for the reporting period.
Any questions? Contact charities.bureau@ag.ny.gov
USPS and Postal Rates: Postal Increases Starting in July
USPS has announced new postal rates to take effect July 10, 2022. The First Class stamp goes from 58 to 60 cents (a 3.4% increase). Pre-sorted First Class rates will go up considerably more, 6.9% for letters and 9.2% for flats. While Marketing Mail (formerly known as Standard Mail) commercial letters will rise an average of 6.2%, nonprofit letters will go up 4%. The reverse happens for Marketing Mail flats: commercial flats increase 8.5% on average, and nonprofit flats less than 4 oz. will increase a well-above-average 12.2% and flats over 4 oz by a whopping 30%+.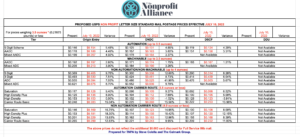 Download the chart of new rates and read about the history and current context of postal rate increases.
Upcoming Virtual Capitol Hill Day
Wednesday, June 8
Hope You Can Join Us!
Continuing TNPA's series of Capitol Hill Days, on Wednesday, June 8th we will be holding a Virtual Capitol Hill Day. Hill Days are an opportunity for sector leaders to advocate, based on your own experiences, for legislation that can help the nonprofit community. You do not need to be an expert on specific legislation or the Congressional process — that's our job at TNPA.
Your participation in one of TNPA's most important advocacy efforts will strengthen the voice of the nonprofit community on Capitol Hill. It's also a fun, energizing day and a good networking opportunity with your professional peers.
If you have any questions about TNPA Hill Days, please contact TNPA's VP of Government Affairs Mark Micali at mmicali@tnpa.org.
From the States
We continue to follow legislation in many states. For more details and additional state bills that could impact the work of the nonprofit sector, as well as links to the actual bills, visit our States Policy page.
Congressional Spotlight
Congressman Bob Latta (R-OH)
Every month, The Nonprofit Alliance will introduce you to one member of Congress who is a leader on legislative matters important to our TNPA community, with representation from both parties.
The Nonprofit Alliance has maintained a close relationship with Congressman Bob Latta of Ohio over the many years he has served in public office. The Congressman is a senior member of the House Energy and Commerce Committee and currently serves as the Ranking Member of the Communications and Technology Subcommittee. During his time on the Committee, he has played an important role in crafting legislation dealing with telecommunications, energy, the environment, health care, technological innovation, and overall interstate commerce policy.
The Nonprofit Alliance has often worked with Congressman Latta on legislation concerning data/privacy policy, which is an issue that impacts the entire nonprofit community. Notably, the Congressman is a member of the Energy and Commerce Subcommittee on Consumer Protection and Commerce, which has jurisdiction over data/privacy legislation and he chaired in the 115th Congress. The Congressman is supportive of a national privacy standard to effectively protect the privacy and security of individuals while also allowing nonprofits the use of data to secure resources and more effectively carry out their missions.
Throughout his career, Congressman Latta has maintained strong relationships with his constituents by making time to visit them in their communities. In fact, since 2012, he has held over 1,500 meetings with his constituents in his Northwest/West Central Ohio congressional district. In Washington, Congressman Latta has worked across the aisle since he was first elected to the House of Representatives in 2007. He has had over 25 bills signed into law during his tenure. One area of focus for the Congressman outside his work on Committee has been his work as a steadfast advocate for our nation's veterans. He has authored legislation to help the Veterans Administration (VA) hire more qualified medical personnel, expedite the processing of VA claims, and ensure Ohio veterans suffering from cancer can receive health care closer to home.
The Nonprofit Alliance looks forward to continuing to work closely with Congressman Latta.
---