Elevating Diversity & Guiding Employment
Student Spotlight




Sam Li | Senior at Georgetown University
---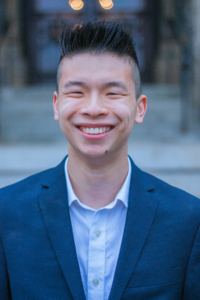 We recently sat down with Sam Li, a rising senior at Georgetown University, to hear more about his nonprofit work and campus leadership roles with BridgeUSA, the Chinese Student Alliance, and Product Space. Read our full interview below or click here to watch the video version.

---
TNPA: Hi Sam! Can you tell us about yourself – what you're studying and the causes you're involved in?
Sam: Sure, I am a rising senior at Georgetown University studying Business and Global Affairs, a joint degree program between the School of Foreign Service and McDonough School of Business. I am passionate about data ethics, specifically user privacy and misinformation. I have translated that passion into various opportunities during my time at Georgetown and in Washington, D.C., including taking classes on the topic as well as conducting research at our McCourt School of Public Policy and the U.S. Library of Congress.
In terms of campus involvement, I founded and served as president for the Georgetown chapter of BridgeUSA, an organization dedicated to combating polarization, led the Georgetown Chinese Student Alliance as president, was selected as project manager and internal project manager for Innovo Consulting, a social impact consulting club, and am now co-founding the Georgetown chapter of Product Space, an organization for product management.
————————————–
TNPA: Great! So what is BridgeUSA and why was it important for you to start the chapter on your campus?
Sam: BridgeUSA is a space aiming to empower students by having them productively engage in controversial discussions. It is safe to say that Americans have a fair share of disagreements, whether it be politics, economics, social issues, and more. The participants of BridgeUSA want to create spaces where people can disagree productively, rather than in a toxic manner, both online and in person.
Last February, I began to recruit members to start the Georgetown chapter of BridgeUSA. As president, I hired a VP, treasurer, secretary, director of events, director of marketing, director of external outreach, and director of creative design. Later on, we added a freshman representative as well as a director of the community. It was important for me to start a chapter on my campus because I believe polarization is prevalent on the majority of college campuses today and it is important to protect constructive dialogue, no matter what the issue.
————————————–
TNPA: Many may not realize the similarities between campus groups and nonprofit organizations in terms of volunteer management, board structure, member recruitment, fundraising, etc. or the opportunities that are available to turn your volunteer experiences into a career. What have you learned from your time starting and leading campus groups?
Sam: I have learned that starting and leading campus groups can feel a lot like running a small organization. There are many important considerations, such as financing for events, conducting proper outreach, carefully recording the logistics of the group, and growing at an appropriate pace. In the beginning, I encouraged our club to aggressively promote ourselves in any space possible. Whether that be through our own social media channels, collaborating with other clubs via events or other promotions, or any other way.
Eventually, I could see the returns in the form of clubs inviting us to collaborate with them, external organizations trying to partner with us, and other benefits. Ultimately, I have learned that it is important to manage expectations starting out while also continuously pitching your organization over and over again wherever you can.
————————————–
TNPA: So true! I saw you also interned with the Climate Reality Project. What was that like?
Sam: Interning at the Climate Reality Project was a great experience. Founded by former VP Al Gore, this organization helps train current and future climate activists/leaders so they can better tackle the pressing environmental problems the world faces. As an Advancement Intern, I was in charge of helping conduct grant research and find prospective donors. I wanted to work with this type of organization because I am interested in sustainability and how important stakeholders are actively working towards creating a healthier and safer future.

During my time at the internship, I was able to learn how to use Salesforce and iWave, comb through massive data sets, and create donor profiles. Additionally, I worked with a great team who taught me more about the sector and how to navigate advancement. Overall, it was a great experience that helped me build valuable skills and knowledge about climate change.
————————————–
TNPA: I like that you were able to find ways to serve your community through both work and campus involvement. What is one of your favorite moments from those opportunities?
Sam: One of my favorite moments serving the Georgetown community was leading the Chinese Student Alliance's annual Lunar New Year Ball. It is a great moment where Chinese students and friends come together to celebrate one of the most important holidays for Asian and Asian American households. As president, I led my team to plan our biggest celebration yet. We ended up having 120+ community members come for a night of great dinner food, performances, and crafts activities.
I am so proud of the Chinese Student Alliance for all of their efforts. Being able to help make this event a reality is one of the highlights of my Georgetown career. I look forward to this upcoming Lunar New Year Ball, which I'm sure will be even bigger and better.
————————————–
TNPA: Love that! Before you go, do you have any advice for other students about getting more involved in nonprofit work?
Sam: I would just say that once you find a cause that you are passionate about, find any opportunity you can to be involved. For college students, I believe that no position is too small or big and that it's important to get experience in the field you are interested in.