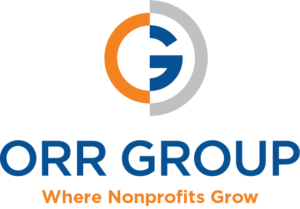 Description
Orr Group offers a variety of nonprofit management services to help organizations fundraise, develop and build consensus on new strategies, recruit and enhance board leadership and can provide interim or long-term staffing for various fundraising and leadership positions.
• Wage Per Hour: $17
• Schedule: Flexible Part-Time/Full-Time
• Hours per week: Maximum of 35 hours per week
• Days Per week: 3 – 5
• Location & Type: Washington, DC (hybrid remote/in-person)
Responsibilities and Duties
Orr Group, Inc. is a group of dedicated fundraisers that works hand in hand with our partner organizations in the areas of development, strategy, event planning, and board management. We are looking for full-time or part-time Development Interns to assist our client teams in their day-to-day work. There is no typical day at Orr Group, but if there were, here are some of the tasks you might be doing:
• Gathering data on potential donors, peer non-profits, and charitable industries; Researching foundations to understand their strategic interest and soliciting potential;
• Supporting Associates in managing and tracking data in donor databases/CRM platforms;
• Preparing the first draft of client deliverables across all Microsoft Suite applications (Word, Excel, PowerPoint, etc.);
• Assisting with mailings, client materials preparation, and special projects as assigned;
• Assisting the marketing team on various projects such as tracking social media engagement and monitoring client/prospect activities;
• Supporting staff as they prepare for client events including galas, cultivation lunches, or board presentations; Other administrative and physical duties as assigned.
You will also have the opportunity to work on a capstone project on a topic of your choice related to the non-profit sector. At the end of the semester, you can present your research to the entire office!
Qualifications and Skills
To land this gig, you need to have experience helping others solve problems. It doesn't need to be traditional customer service experience—internships, volunteer work, and side projects count! Describe your background in your resume and cover letter and tell us how it has prepared you for this role. Must have a bachelor's degree or be enrolled in a bachelor's degree program.
Preferred Majors: Marketing, Communications, Finance, Business, Policy, HR, Nonprofit Management, Data Science and Analytics
College Level: Junior, Senior
Benefits
• Flexible schedule
• Networking and professional development opportunities as part of TNPA's Leading EDGE internship program
NOTE: Applicants will be contacted by TNPA and/or the employer. Please, no follow-up phone calls or direct contact with the employer on application status.
About Leading EDGE
This internship is posted by The Nonprofit Alliance's Leading EDGE Internship Program. This program aims to elevate the visibility of college-age job candidates, particularly those in underrepresented and first-generation student populations, within the employer job market; and enable first job placements that can lead to a career path in the social good sector, including roles in marketing & fundraising, finance, policy, data management & analysis, and other fields.
We invite all students to learn more and help us create a thriving nonprofit sector that has the support, resources, and influence to make the world a better place. Visit TNPA.org/Leading_EDGE/ for more information.
The nonprofit sector's ability to change the world is not possible without diversity and inclusion. The Nonprofit Alliance promotes equal opportunity by following EEOC regulations and EEO laws that apply to each part of our organization and taking actions to promote fairness and diversity as part of our equal employment opportunity policy. The Nonprofit Alliance does not discriminate in employment opportunities or practices on the basis of gender, race, color, religion, disability, national origin, sexual orientation, gender identity, citizenship status, or any other characteristic protected by applicable law. This non-discrimination policy applies to recruitment, hiring, compensation, promotions, transfers, discipline, training, and distribution of benefits. Reasonable accommodations will be provided to applicants and employees who need them for medical or religious reasons, as required by law.