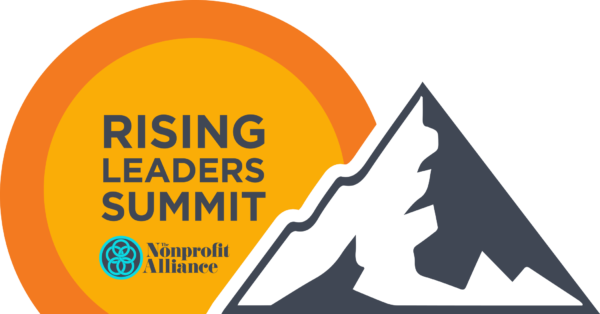 September 22, 2022  |  New York City
Join your nonprofit industry peers at The Nonprofit Alliance 2022 Rising Leaders Summit. 
As a rising leader, you divide your time and focus between three levels of impact: ME, yourself as a smart and savvy professional with a track record of success and a list of ambitious goals.  WE, your organization, team, or other growing circle of influence.  And COMMUNITY, the social impact sector as a whole, your professional "why." Balancing all three requires intentional practice. If you are ready to up your game, you're in the right place.
Participation is recommended for midlevel managers and future executives who:
have a solid foundation of tactical skills;

are increasingly being recognized as subject matter experts;

lead a team and/or manage one or more direct reports; and

are motivated to "think big" and develop strategic planning skills.
The TNPA Rising Leaders Summit blends peer conversations and podium speakers.  We use Liberating Structures, facilitation techniques that stimulate critical conversations and elevate the expertise in the room. Attendees will take these facilitation tools and skills back to their own organizations to help ensure all voices are being heard and to spur greater engagement and innovation.
Schedule
8:30am     Registration & Networking Breakfast
9:00am     Morning Program |  What are the biggest challenges in your role today? What if you could flip those, turning barriers into opportunities — for you, your team, and the greater good? We will leverage the experience in the room to set the focus for the day and ensure you leave with new ideas and strategies for immediate implementation.
10:30am     The 5 Elements of Promotability (and How to Perfect Them) with Executive Coach Amii Barnard-Bahn |  Where do you stack up with the leadership elements that get you promoted? Discover how you are currently perceived from a promotability lens, assess your unique strengths and opportunities, and create an action plan with concrete next steps to advance your career.
Networking Lunch
1:00pm     Afternoon Program |  Don't get too comfortable in that seat! Through a series of small and large group activity formats, from peer coaching to crowdsourced feedback loops, you will develop a specific personal accountability plan — and a room full of professional connections to support your success!
5:00pm     Wrap Up
Early Bird Rates, through July 15
Nonprofit Member   $190
Corporate Member*   $240
Nonprofit Future Member   $215
Regular Rates, after July 15
Nonprofit Member   $220
Corporate Member*   $270
Nonprofit Future Member   $245
*Corporate attendance is limited to one person per company to allow for greater diversity of participation. 
Seating will be capped at 90 attendees.
COVID-19 protocols: At this time, New York City encourages masking indoors and is not requiring proof of vaccination or testing. We are monitoring the NYC and venue guidelines, and reserve the right to adjust the masking and testing policies for this event if warranted, and with sufficient notice, for the safety and comfort of our attendees, speakers, volunteers, and staff. 
Meet Our Planning Committee
Co-Chair: Megan Den Herder, Wildlife Conservation Society
Co-Chair: Katie Valvo, Epsilon
Meg Ferguson, Production Solutions
Amanda Kautz, The Nature Conservancy
Letal Zidkony, Planned Parenthood Federation of America
Cancellation Policy:
Full refunds will be available on all cancellations emailed to The Nonprofit Alliance 30 business days or more prior to the start of the event minus a $50.00 processing fee.
No refunds will be issued 29 days before the first day of the event.
Registrants failing to attend the event will not be eligible for a refund.
Substitution of registration is permitted up until two weeks before the event with written consent. Any substitution must be of the same type (Member for Member, Nonprofit for Nonprofit, Commercial for Commercial). The individual submitting the substitution request is responsible for all financial obligations.
If the event is canceled by The Nonprofit Alliance for any reason, registrants will receive a full refund for registration fees, or said registration fees can be credited to a future program.  However, The Nonprofit Alliance cannot and d

oes not assume responsibility for any other expenses, including the purchase of hotel reservations or train/airline tickets, incurred by the registrant in connection with attending the event. 

All applicable refunds will be issued following the close of the event. A refund will be returned in the original purchase format. If paying with a credit card, a refund will take an additional 10 business days to post to your account.
COVID-19 Accommodations: If, within 30 days, a registrant is unable to attend due to illness or exposure related to COVID-19, or an attendee must cancel due to company restrictions (proof required) or state, local and federal government regulations relating to COVID-19, an attendee can choose to receive a full refund or apply the credit toward registration for a future TNPA program.
Code of Conduct: 
The Nonprofit Alliance (TNPA) exists to foster the development and growth of nonprofit organizations and to protect the donors, members, partners, and volunteers that support them.  At all educational offerings and conferences, we commit to fostering an environment free from physical, emotional, and psychological harm. We will not tolerate harassment, discrimination, and intimidation of any form. All individuals must exhibit professionalism, must demonstrate respect for others, must act with civility, and must refrain from inappropriate and unwelcomed physical contact, sexual references and aggressive advances.
Anyone who experiences or witnesses a violation to these standards, should immediately contact TNPA CEO Shannon McCracken.  Anyone found in violation of the TNPA Code of Conduct by any means may receive a warning, have membership suspended, registration forfeited, or experience escalation to legal authorities.