Transformational leadership will be vital for all nonprofits in the coming decade. Constituents, donors, staff, and volunteers are adopting new technologies, adapting to new landscapes, and changing their philanthropic behaviors.
Join fellow leaders in the nonprofit industry at The Nonprofit Alliance Biannual Leadership Summit. Harness the power of transformation and the impact our missions will have on the world.
Attendance restricted to TNPA members and invited guests only. Seating will be capped at 150 attendees.
Throughout the Summit, we will be applying Liberating Structures, facilitation techniques that stimulate critical conversations and liberate the full potential of any group, from the front line to the C-suite. Attendees will take these tools and skills back to their own organizations to help ensure all voices are being heard and to spur greater leadership and innovation.
Schedule
Tuesday, October 22
2:00-4:00pm Canyon Hike – Our resort sits along the Ventana Canyon, one of the most stunning canyons in the Santa Catalina front range. Pack your comfortable shoes and water bottle and start your peer networking within a panorama of sheer canyon walls and desert beauty.
6:00pm Opening Reception – This is the start of our transformation conversation, and part you won't want to miss as we deepen connections with fellow senior leaders and define our expectations for the event, and for ourselves.
Wednesday, October 23
7:30am Rise & Shine Breakfast
Just announced! We begin our day with Dr. Adrian Sargeant, Chief Executive, Philanthropy Center for an engaging discussion on what it takes to build a philanthropic culture, and why our future as an effective nonprofit sector depends on it.
Debbie Weir, Senior Managing Director, Everytown for Gun Safety and Moms Demand Action for Gun Sense in America will guide us through an examination of the changing models of nonprofit partnership, including collaboration and consolidation among similarly focused nonprofits, engagement with grassroots advocates, and alignment with corporate social responsibility programs.  Joining her are Colleen Creighton, Executive Director, American Association of Suicidology, and Mary Reed, mom and volunteer survivor who was shot three times shielding her daughter at the 2011 event for Congresswoman Gabrielle Giffords.
Jill Davis, Senior Vice President, Corporate Partnerships, and Rich Kostro, SVP and Chief Information Officer, both with Share Our Strength | No Kid Hungry will discuss how they have broken down barriers externally to increase the value of their corporate partnerships, and internally to have harmonious, production relationships among departments and functional areas.
At various points during the morning we'll split off into partners and small groups to draw out insights and collectively build on one another's answers to questions like, "How do we invest in success factors," and "If you were 10x bolder, what would you do differently?"
Noon-1:15 Networking Lunch
In the afternoon, Creighton Drury, CEO, Center on Addiction will bring us inside his journey exploring and ultimately leading the merger of two nonprofit organizations, from the earliest days of building board and stakeholder buy-in, choices about the spirit and vision of the new organization, legal processes, rebranding, and the unanticipated day-to-day decisions that follow.
In a "fishbowl" format, we'll take a hard look at issues that organizational leadership face today, including stakeholder diversity initiatives, workforce development, and change management.  With Vinod Parmeshwar, Former Head of HR at Oxfam; Vice President of HR, Finance, and IT at the Lincoln Institute for Land Policy | Ann Crowley, Vice President, Membership & Online Strategy, Human Rights Campaign | Brandy Swimley, VP of Marketing, Defenders of Wildlife | Dave Strauss, Director of Global Membership, The Nature Conservancy.
In large and small group discussions we'll change the lenses we use to envision a roadmap to success. What are the opposing strategies we need to pursue simultaneously, such as making it safe to take bolder risks? How can a plan to produce the worst possible results lead us to new insights for meaningful transformation?
6:30pm Sunset Reception & Dinner – Relax and enjoy the beautiful desert surroundings during our outdoor networking event under the sunset.
Thursday, October 24
7:30am Rise & Shine Breakfast with The Nonprofit Alliance's California lobbyist, Kris Rosa, to step through our journey with the California Consumer Privacy Act.
Jim Daniell, CoFounder, NetHope Center for the Digital Nonprofit, will lead us through a readiness assessment of our own digital programs and a discovery of the untapped potential for meaningful change that is at our virtual fingertips.
Digital transformation is a mindset shift and a culture change. In large groups and table breakouts we will delve into the process of building conceptual bridges with partners, and creating a powerful model for innovation across diverse stakeholders.
11:50am Departures
Registration
This is an exclusive event with no more than 150 senior leaders from nonprofit organizations and commercial partners. Participation is limited to senior leaders with 15+ years experience and a title of Vice President (or equivalent) and higher.
Nonprofit Attendees: SOLD OUT! 
Corporate Attendees: SOLD OUT! 
Hotel Information –

ROOMS ARE SOLD OUT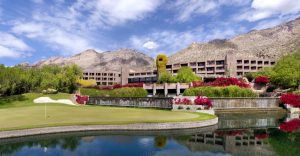 The beautiful Loews Ventana Canyon Resort is the setting for our event, with stunning views of the Catalina Mountain range and luxurious onsite amenities.
Thank you to our generous Leadership Summit sponsors.