Faith & Fundraising Conference 2022 (in-person)
Feb 22-25, 2022
Hilton Milwaukee City Center
Co-Presented by…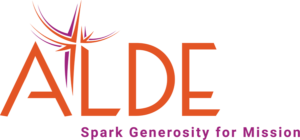 We invite you to submit a proposal to lead a 90-minute Breakout Session at the upcoming Faith & Fundraising Conference, an in-person conference in February 2022 in Milwaukee, WI.
For more information about the conference and to register, click here. For information about presenting a breakout session at the conference, continue reading here. If you are interested in presenting a Master Class before the conference, or being one of the Keynote Speakers, check back regularly, more information is coming soon. 
Deadline for Proposals
Friday, August 27, 2021 EXTENDED to Friday, Sept 3
Proposal Submission Form
Please submit your proposal via the Proposal Submission Form.
About the Conference
As we come out of more than a year of pandemic social distancing, we have a vision for this conference to be energizing, exciting, and ENGAGING. We will break out of the typical mode of conferences and create something new and special. The difference will be the degree of interactivity and relationship-building that will be woven through all aspects of the conference,  and we need your session to be a part of creating this new and innovative experience!
The Faith & Fundraising Conference is designed around three themes:
Education. Inspiration. Fellowship.
Education: Attendees will gain new skills and learn tactics to take back and immediately apply to their work.
Inspiration: Participants will leave with a vision of what is possible and inspired to pursue their goals with confidence, enthusiasm, and support. 
Fellowship: Attendees will develop valuable relationships that support, nurture, and mentor them into the future. 
About Conference Attendees
This conference connects faith and vocation for development professionals serving in fundraising, nonprofit leadership, marketing, and communication roles. Attendees hold such titles as: Chief Development Officer, Major Gifts Officer, Principal, Pastor, CEO, Board Member, Consultant, Annual Fund Director, Planned Giving Officer, Special Events Coordinator, Director of Marketing, and many more. 
Attendees come from a wide variety of experience levels and backgrounds. Some are just beginning in the field, while others have decades of experience. We are looking for presenters able to speak to various levels of proficiency – both for sessions that are targeted at all attendees, and to specific experience levels.
About the Breakout Sessions (90 minutes total)
We are looking forward to these sessions being educational, inspiring, and building the connections and fellowship for everyone involved.
We are looking for proposals addresssing the pressing issues of fundraising in our current climate, as well as planned giving, annual giving, major donors, stewardship, marketing, governance & leadership, youth engagement, and much more. We look forward to reading your proposals.
We are looking for a breakout sessions that are creative, interactive, and will help build relationships among participants. The structure of your session is as important as the content that you desire to convey. The goal is for participants to not only "consume" information, but to also offer their own experiences, share expertise, and apply what they are learning to their own situations. 
We will be happy to work with you to develop a model that encourages interactivity, and to develop the facilitation skills that will support participant engagement. Also note that we will talk more about interactivity in our "How to Create a Successful Proposal" workshop and conversation offered several times during the month of August.
We are open to your ideas for how to structure your sessions to be interactive. Here are two ideas for a session structure, but we are not limited to these. 
One Option: Spend 45-60 minutes presenting materials, case studies, and insights. Then spend 30-45 minutes with in-depth discussion among the participants, doing an exercise, or workshopping their specific challenges. 
Another Option: Work interactively with participants from the beginning to surface their expertise and challenges and to have them work together and learn from each other, with the session leader being a facilitator of the process. 
Think through what makes sense for your material and you as a presenter. We are open to creative uses of the 90 minutes that engage participants.
Information Sessions: How to put Forward your Best Proposal
To help you understand the vision for this conference and what types of proposals will be prioritized, we are offering Information Sessions for prospective applicants in August. It is the same session at 3 different times, hoping to make it possible for you to join and learn more. 
The Details for Your Breakout Session Proposal
Sessions are 90 minutes long, and expected to be a combination of presentation and interaction.
We strongly recommend including a non-profit representative in your proposed list of presenters, if you are from a for-profit company.
Topic and materials must be relevant to Faith and Fundraising. This is a broad spectrum of topics and we will select sessions based on variety and creativity. 
Prepare the following items to complete your session proposal and then submit it via this form.
For each presenter: 

Contact info (name, organization, phone, email, address, etc.)

A short bio – 100 words or less

Session title and description (100 words or less)

Proposed structure for interactivity (100 words or less)

3-5 Learning Objectives (Attendees will leave with…) 

Information about whether you have made the presentation before, including where and when

(Optional) List 1-2 references
We look forward to reading your proposal! If you have additional questions, please reach out to Abby Graf at agraf@tnpa.org. 
Deadline for Proposals
Friday, August 27, 2021 EXTENDED to Friday, Sept 3
Proposal Submission Form
Please submit your proposal via the Proposal Submission Form.
About the Co-Presenting Organizations
About ALDE
ALDE is an international community of fundraising and communication professionals that is rooted in the Lutheran tradition of the Christian faith and dedicated to serving God's people in the church and the world.