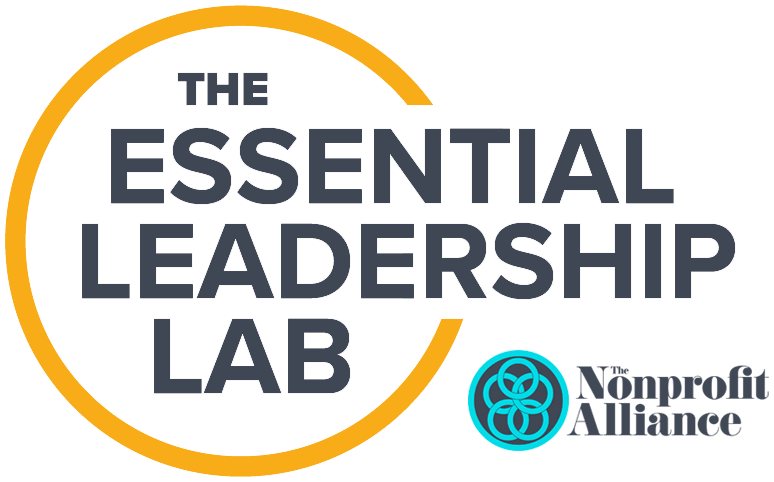 A community of visionary change-makers, committed to protecting, promoting, and strengthening the nonprofit sector.
The TNPA Leadership Steering Committee is excited to announce TNPA Essential Leadership Lab 2.0!
Over the past three years, The Essential Leadership Lab has provided the opportunity for senior leaders in the nonprofit sector to convene in virtual cohorts of sector peers, develop knowledge and skills, explore critical issues, and cultivate an unparalleled network of leaders.
For the fourth year of the Lab, we are making some changes to offer more topic variety and greater flexibility for busy schedules.
Join us in 2024 for the Essential Leadership Lab 2.0
12 monthly virtual sessions focusing on critical topics facing leaders in the nonprofit sector
Participants enroll for one year and choose to participate in 9 of the 12 sessions
The sessions include a mix of outside expert presentations, participants sharing their own experiences, and elevation of the expertise in the room
Rolling enrollment opens 3 times per year in February, June, and October when new participants join an orientation and kick-off.
Bonus! Lab participants are eligible for early registration to TNPA Leadership Summits.
2024 Schedule of Lab Topics
Participants choose 9:
January | Essential Leadership Lab Reunion.
All past, current, and registered-for-the-future Lab participants are INVITED and WELCOME! This gathering will include a guest panel of past participants sharing their Lab takeaways and stories of implementing what they learned. It will also have networking, voting on Lab highlights (and "Most Popular" categories), and giveaways. The Lab Reunion will be a time to learn, network, and celebrate the leaders of our sector.
February | Generations in the workplace.
Every generation entering the workforce seems to provoke puzzlement (at best) and irritation (worse) among more seasoned colleagues. Are generalized age-based attitudes toward time, commitment, values, and work/life balance fact or hype? Discuss the impact in your workplace and compare strategies for building effective, motivated, and committed multi-generational teams.
March | HOT TOPIC
What is the most perplexing, vexing, or critical topic you must grapple with right now? Lab participants have input and one HOT TOPIC will be selected for the focus for March.
April | Managing the Managers
It is one thing to manage staff to be accountable and meet their goals. It is a different skill to train those same people to be managers. Explore how to identify managers, upskill their people management, and cultivate your organization's next generation of managers.
May | Leading the Leaders – Cultivating a Leadership Pipeline
This session will focus on building the next generation of leadership inside our organizations: identifying leadership potential, putting someone on a leadership path, and creating a plan.
June | Curiosity
Curiosity is getting a lot of attention in the business world right now. What does it mean for leading teams and creating effective business models? How can we cultivate it in ourselves and our staff? What would it look like to nurture a Culture of Curiosity?
July | Facilitation
As leaders, we facilitate large meetings, small group brainstorms, and one-on-one conversations. What are the structures and skills that will ensure everyone participates and we are getting the best ideas from our people? Join this session to learn key concepts of alternative meeting facilitation structures and practice a few of them together.
August | HOT TOPIC 
September | Embracing Difficult Conversations / Breaking Down Silos
Bring a "plus one" from your organization, department, or another vertical. Let's break out of the silos and develop a new language for a business challenge you are facing.
October | Diversity, Equity, and Inclusion
Share experiences and receive ideas and guidance specific to your situation. As a sector, where are we now? Where do we need to go? What can we do next?
November | Risk & Reward
The nonprofit sector has a reputation as being risk-averse. Join us to explore your tolerance for risk-taking, learn how to assess risk and work with risky situations, and increase your skills and strategies for encouraging innovative behavior in your team and organization.
December | HOT TOPIC – OR – Personality Profiles
Personality Profiles like Myers-Briggs, Enneagram, Personality Index, DiSC, and more have become standard tools in our team management. After a brief overview of the various models, join with colleagues to share your own experiences about which you have used, how you have implemented them, and where you have found them effective.
Thank you!

TNPA Leadership Programming Sponsors

2024
There is still time to sponsor TNPA's Leadership Programming.  View the Sponsorship Prospectus and reach out to Abby Graf, Vice President Programs, at agraf@tnpa.org with any questions.
Participation in TNPA's Essential Leadership Lab is open to TNPA members only.
Nonprofit Members: $549
Commercial Members: $749
Enrollment includes 12 months of Lab participation, starting in either February, June, or October.
Questions? Reach out to Abby Graf at agraf@tnpa.org.
Who are Lab participants?
Essential Leadership Lab is a program for members of TNPA. Click here to learn about membership.
Lab participants are leaders from nonprofit organizations and commercial partners with proven experience and a passion for collaboration, innovation, and organizational health. Is this you? We invite you to join the Lab!
TNPA Leadership Steering Committee
Nick Ellinger, Moore
Kelly England, Multiply Strategies
Steve Froehlich, ALSAC / St. Jude's Children's Research Hospital
Jennifer Ingram, Wiland
Rich Kostro, Share Our Strength
Linda Platt
Allison Porter, Avalon Consulting Group
Kyla Shawyer, Philanthropy & Fundraising North America
John Thompson, TrueSense Marketing
Debbie Weir, Cancer Support Community
Enrollment transfer and cancellation policies: Enrollment in the Essential Leadership Lab constitutes intent to participate for at least one year and is a commitment to the Lab experience for fellow members.  Enrollment is non-transferrable as of the last date of the current enrollment registration.  Lab membership remains with the individual, such that if a Lab member changes jobs or employers, the individual remains a member of the Essential Leadership Lab for the remainder of the pre-paid one-year term.  No refunds will be issued after the final date of the current enrollment registration period.
TNPA DEI Accountabilities: As part of our organizational commitment to diversity, equity, and inclusion, TNPA strives to hold ourselves accountable for putting our principles into practice.  We apply this same accountability to those who create and/or present content on our behalf:
Be inclusive.  Create content that can resonate with an array of listeners and readers.

Speak to diversity. Recognize that members of an audience or cohort have various lived experiences.

Recognize that systemic inequities and discrimination exist.  Do your best to acknowledge how we can mitigate against them.

Be mindful of explicit and implicit bias.  Review content through the lens of varied identities.
TNPA Code of Conduct: The Nonprofit Alliance exists to foster the development and growth of nonprofit organizations and to protect the donors, members, partners, and volunteers that support them.  At all educational offerings and conferences, we commit to fostering an environment free from physical, emotional, and psychological harm. We will not tolerate harassment, discrimination, and intimidation of any form. All individuals must exhibit professionalism, must demonstrate respect for others, must act with civility, and must refrain from inappropriate and unwelcomed physical contact, sexual references and aggressive advances. Anyone who experiences or witnesses a violation to these standards, should immediately contact TNPA CEO Shannon McCracken.  Anyone found in violation of the TNPA Code of Conduct by any means may receive a warning, have membership suspended, registration forfeited, or experience escalation to legal authorities.